MAB Engineering – the sister MRO unit of national carrier Malaysia Airlines – will expand its MRO capacity at Subang airport by leasing a second hangar for airframe maintenance.
The MRO provider, which is owned by Malaysia Aviation Group, signed a letter of offer and acceptance with Impeccable Vintage Properties (IVP) for a long-term lease of the facility.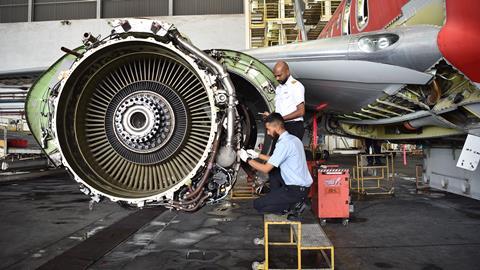 Under the agreement, IVP will recondition and refurbish the hangar's infrastructure and facilities, to allow for up to five maintenance lines. The hangar will be capable of handling turboprops, narrowbody or widebody aircraft, MAB Engineering states, without indicating when the new facility will be ready.
It is the MRO company's second hangar in Subang airport, which is located south of Kuala Lumpur. Its first hangar handles turboprop MRO, while two other hangars at Kuala Lumpur international airport handle narrowbody and widebody airframe MRO.
MAB Engineering says the hangar expansion is a "significant milestone" in its "continued growth and commitment to providing MRO services to the aviation community beyond Malaysia and the region, as it seeks to ensure the highest standards of safety, quality, and efficiency in its operations".
The hangar expansion news come amid plans by the Malaysian government to regenerate and expand Subang airport to be capable of handling commercial jet operations.