Many of the same companies figure in the top operating margin list time after time, collated as part of FlightGlobal's annual listing of the largest 100 aerospace companies in 2021. In fact, 16 of the 20 companies appeared in the previous ranking.
This list tends to include businesses with a unique product offering or one where there is little competition – Martin-Baker would be in this category – those with a very specialist business model, such as Ontic, or large defence contractors who are able to supply highly specialised equipment at volume.
While Martin-Baker is not the only Western supplier of ejection seats for military aircraft – its competitors include Raytheon Technologies unit Collins – it has the longest pedigree and the largest market share. The private UK-based company heads the highest operating margin table this year, with an impressive return of 36.4%, after finishing fifth last time. However, its latest published results are for the year to 31 March 2021.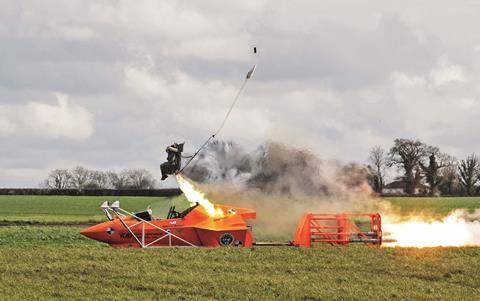 It pips TransDigm – which is rarely out of the top two – a US group that has made a reputation of acquiring under-performing businesses with a strong aftermarket presence and proprietary technology and improving their profitability while keeping them trading arms-length under their existing brands. It has actually improved its margins over the past year, taking them from 34.3% last time to 35.2% this year.
Diversified technology group Honeywell, in third place, has also improved its margins year-on-year, but drops one place to third. Avionics firm Garmin, which won last year's prestigious Collier Trophy for its Autoland autonomous emergency landing system, also slipped a place despite an almost five percentage point increase in margin.
NICHE BRANDS
Aerospace is one of several markets US power systems group Eaton plays in, and its rather unglamorous products range from fuel systems and seals to hydraulics and hoses. However, the company, which has over the years picked up a succession of niche speciality brands, was able to drive margins of almost 22% from these businesses in 2021.
The four new companies in this year's ranking are CAE, GE Aviation, L3Harris and Ontic. Ontic, also making its first appearance in the Top 100, is the highest placed, with margins of 18.3%. The UK company secures manufacturing and distribution rights to legacy parts that the original manufacturers no longer want to make or support. It makes it a single-source supplier on several fleets that, though ageing, can remain in service for decades.
L3Harris largely competes across all domains in the defence market and came into being in 2019 with the merger of L3 and Harris, and is one of several companies in the listing that make impressive margins from military technologies. It also has a pilot simulation and training business where it competes with CAE. CAE, which bought L3Harris's military training activities in 2021, has benefited from a rebound in pilot training in 2021 when travel bans began to relax.
Top 100 aerospace companies ranked by revenue
1

2

Currently reading

Martin-Baker blasts clear in operating margin ranking among aerospace firms

3

4

5