Melrose Industries, the parent company of GKN Aerospace, has highlighted improving market conditions as recovery in the sector takes hold.
In a trading update issued today for the three months ended 30 September, Melrose says that revenue from its aerospace operations was 16% higher than the same period last year.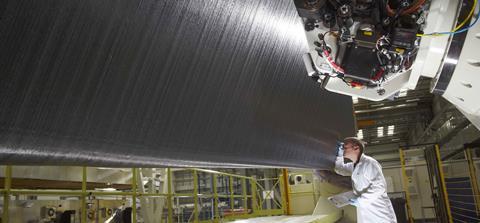 It adds: "The aerospace business continues to improve its performance through restructuring, and we expect the pace of this to further pick up during the second half."
Simon Peckham, chief executive of Melrose, says that all its business units are "on track to achieve their margin targets assuming partial end market recoveries."
In its half-year accounts, published in early September, Melrose said that GKN's civil activities were now more tilted towards the narrowbody segment, which is expected to recover more quickly than the widebody sector; defence demand "remains strong", it adds.
Although sales in the period were down 33% and 18% on the respective half-years in 2019 and 2020, demand has continued to build.
"We expect this to continue in the second half and then strongly into next year and beyond," Melrose says.
Aerospace revenue for the six-month period stood at £1.2 billion ($1.63 billion), down on the £1.5 billion recorded a year earlier. Operating losses for the segment were £102 million, an improvement on the £225 million loss in the first half of 2020 – a figure driven by impairment charges and restructuring costs.
"Significant restructuring is ongoing," it adds, as it booked a £26 million charge in the first half as the business looks to "substantially reduce its cost structure" to better align with the market.
Restructuring activities in the period included the sale of "non-core" businesses Fokker Services and Fokker Techniek to Dutch investment firm Panta Holdings.