Turnaround specialist Melrose Industries has ruled out further acquisitions in the near term as it looks to realise further value through the transformation of GKN Aerospace – the sole company remaining in its portfolio.
Although Melrose has specialised in the acquisition, improvement and sale of underperforming companies – previous acquisitions have included those in the heating and ventilation and power-generation industries – the success of its 2018 capture of GKN appears to have prompted a change of direction.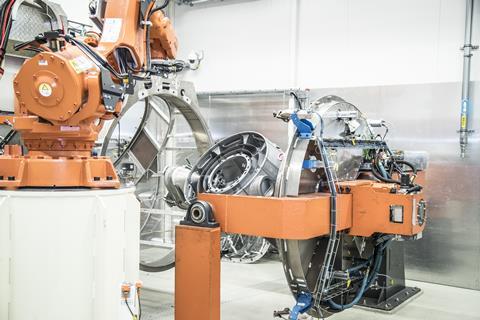 Previous disposals had left Melrose focused only on GKN, but on 20 April it completed the divestment of the firm's automotive, hydrogen and powder metallurgy businesses, spinning them off into a stand-alone company called Dowlais.
And in a trading update issued on 10 May, Melrose signalled that no further acquisitions are planned.
"For the next 12 months the focus is to create further substantial value for shareholders by maximising the embedded quality and potential of [GKN] Aerospace," it says.
"Beyond that, Melrose will continue as a pureplay aerospace company. Consequently, the board will not seek to do another acquisition of an unrelated industrial business or, in the near term, a material aerospace business."
Melrose says trading for the first four months of the year was "materially above expectations" as the aerospace industry continues to recover.
Group revenue grew 19% on the same period in 2022, with turnover at GKN's engines division rising by 28%, and by 14% at its aerostructures unit; group adjusted operating margin increased by around 10% over the previous year.
"Restructuring projects are also proceeding to plan and should be materially complete in the next 12 months," it says. These have mostly centred on the rationalisation and consolidation of production sites, which will fall from 38 currently to 33 by year-end.
Melrose expects group revenues of £3.35-£3.45 billion ($4.22-$4.35 billion) for the full year, with adjusted operating profit at £340-£360 million, and adjusted EBIDTA of £495-£515 million, against respective figures of £2.95 billion, £186 million and £330 million in 2022.
It sees "substantial further growth" in the coming years, forecasting an operating margin of 14% or above being achieved in 2024.
"Aerospace has huge embedded value and an EBITDA of £1 billion is achievable within the next few years, much of this coming from the premium engines business," says Simon Peckham, Melrose chief executive.