Mitsubishi Heavy Industries' aircraft, defence and space unit narrowed its full-year losses, though the group's SpaceJet regional aircraft programme will remain frozen in the near term.
The unit — which also contains the SpaceJet programme — reported an operating loss of Y94.8 billion ($871 million) for the year ended 31 March. This compares to the Y209 billion operating loss it made in the previous financial year.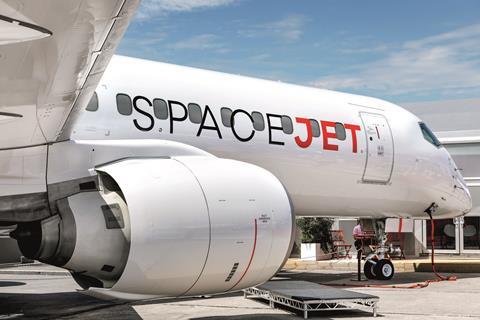 As a result of the freeze — imposed by MHI last year — the SpaceJet programme cut its full-year losses to Y116 billion, down from the previous year's Y263 billion operating loss, and within the forecast of Y120 billion.
Last October, MHI temporarily paused the SpaceJet programme and imposed deeper budget cuts, as the loss-making regional aircraft programme faced fresh rounds of delays.
MHI discloses that it will "continue type certification documentation activities and assess [a] possible programme restart" in the current financial year, which will end 31 March, 2022.
The coronavirus pandemic has had an impact on the aircraft, defence and space unit's revenue. MHI discloses that while its defence business saw a revenue uptick of nearly 11%, its commercial aviation business saw its takings decline nearly a quarter.
Excluding the SpaceJet programme, the unit eked out a full-year operating profit of Y21.4 billion, nearly half the profit it made in the previous financial year.
MHI's commercial aerostructures business, which is a Tier 1 supplier for Boeing's 777 and 787 programmes, reported sluggish revenue recovery for the second half of the year, amid a resurgence in coronavirus cases in Japan.
The aero-engines business also saw revenue in the second-half plateau, but finished the year within target.
Still, MHI says the aero-engines sector is "recovering steadily" and is expected to see revenue return to pre-pandemic levels by 2023.
The aerostructures business, however, will continue to see tepid demand, with recovery expected only after 2024. MHI discloses that it will "continue fixed cost reductions and process optimisations", like making use of automation, to stem its losses.
As a group, MHI bounced back into the black for the full-year, reporting an operating profit of Y54 billion and reversing the Y29.5 billion loss it made in the previous financial year.