Mitsubishi Heavy Industries (MHI) is reportedly poised to terminate its SpaceJet regional aircraft programme, having a placed the programme on "temporary pause" in 2020.
Japanese media outlets, quoting sources, state that MHI management is on the verge of shutting down the programme, effectively ending Japan's ambitions of becoming a major airliner manufacturer.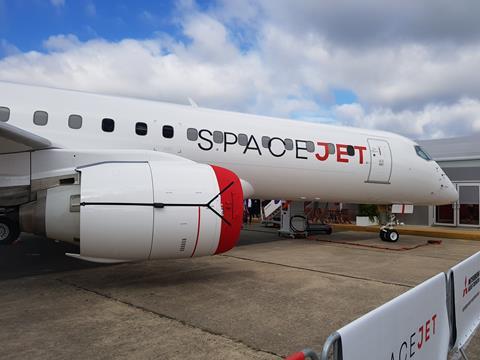 MHI, for its part, states that it has made no formal announcement about the programme.
"Today, there were several media reports claiming that MHI has decided to discontinue SpaceJet Project development," says MHI.
"These stories are not based on any announcement by Mitsubishi Heavy Industries or Mitsubishi Aircraft Corporation, an MHI Group company. While it is true that MHI is considering a variety of possibilities regarding this matter, we will release any information requiring disclosure promptly in the event that any decision has been made."
The reports about the SpaceJet termination come as MHI prepares to announce its earnings for the third quarter of its 2022 financial year.
Despite the promise offered by SpaceJet – formerly known as the Mitsubishi Regional Jet (MRJ) – in the early 2010s, the programme suffered years of delays.
Original plans had called for the first MRJ to be delivered to launch customer All Nippon Airways in the first quarter of 2014. The programme was also successful in signing up major USA regional aircraft operators.
Unfortunately, certification and technical issues plagued the programme, leading to delay upon delay. Finally, in 2020 and amid the coronavirus pandemic, MHI put the SpaceJet programme in stasis.