Mitsubishi Heavy Industries (MHI) has denied reports that it will freeze development of the Mitsubishi Aircraft SpaceJet, but is looking at "possibilities" for the regional jet programme.
"MHI is continuing a detailed review of the schedule of the SpaceJet program, in view of the impact of COVID-19, and is moving forward with development with an appropriate budget that takes into consideration the challenging financial headwinds facing MHI Group," says MHI.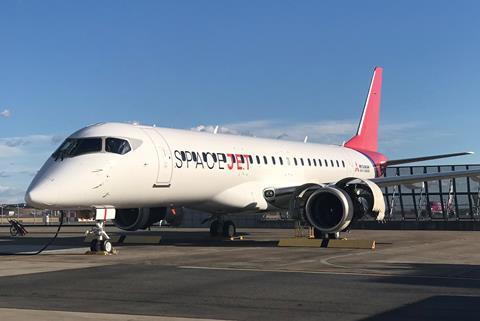 "It is true that we are considering various possibilities, but there is no truth to reports that we have decided to freeze development."
MHI also confirmed that MHI's next mid-term business plan, which also covers the SpaceJet programme, will be announced on 30 October alongside the company's second quarter financial results.
MHI issued the statement in response to Japanese media reports, quoting sources within MHI, that the programme will be radically scaled back, effectively freezing it amid the global aviation slowdown.
Earlier this year, MHI had already pared back the programme considerably, including the closure of overseas locations related to development, namely a flight test base at Moses Lake in Washington state. The company also halved the programme's budget for the fiscal year ended 31 March 2021 to Y60 billion ($557 million).
Flight testing is on hold, but Mitsubishi Aircraft says "our teams are focused on validation and reviewing the flight test data we have from over 3900 flight hours."
The SpaceJet programme – formerly designated MRJ for Mitsubishi Regional Jet – has had a troubled history of delays. To give the programme a boost, it was rebranded as the SpaceJet at the Paris Airshow in 2019.
This saw MRJ70 development cancelled and work started on a new 76-seat variant called the SpaceJet M100, although development on this new aircraft was stopped earlier this year.
The company's flight test campaign until mid-2020 had focused on the larger M90 variant – formerly the MRJ90 – with a test fleet operating out of Moses Lake.