Mitsubishi Heavy Industries' (MHI) aero engines unit is expanding its engine component facility in Nagasaki, as it forecasts an increase in demand for short- to medium-haul engines in the near term.
As part of expansion works, which are slated to complete by March 2024, the existing facility will nearly double in size to around 11,000 sq m (118,400 sq ft), says MHI Aero Engines (MHIAEL).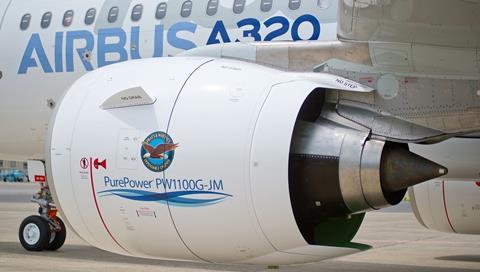 The expanded plant space will allow MHIAEL to "incorporate certain manufacturing processes currently contracted out to overseas suppliers", it adds.
The Nagasaki plant manufactures combustors for Pratt & Whitney's PW1100G geared turbofan engines, which power the Airbus A320neo family aircraft. It began operations in November 2020, amid the coronavirus pandemic, but has seen production lines now operating at near full capacity.
"The Covid-19 pandemic has caused sharp demand decrease in the aviation industry, however business relating to short and medium range commercial aircrafts used on domestic routes has been seeing a quick recovery. Aircraft flying hours of the A320neo family has already exceeded its pre-Covid level," notes MHIAEL.
MHI is also looking to expand its engine MRO business, located at its Komaki headquarters, as part of wider optimism of an increase in long-term demand for commercial aircraft engines worldwide.