Mitsubishi Heavy Industries (MHI) has flagged the "negative impact" stemming from technical issues facing the Pratt & Whitney PW1100G powerplant, with its aero-engines division seeing a dip in profit.
In its half-year earnings released on 6 November, MHI's aero-engines division reported a 43% increase in revenue due to demand recovery, but operating profits were down after "booking one-time expenses" related to the troubled engine programme.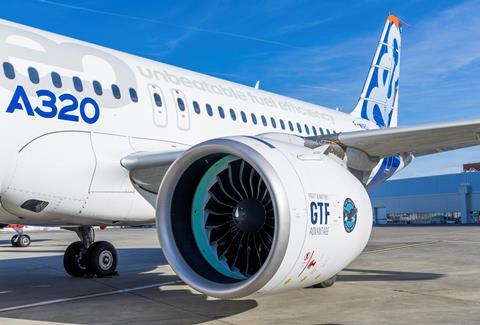 No profit figure was disclosed for the aero-engines business, nor was the one-time cost quantified. However, the aero-engines division, which is part of the energy systems business unit, saw a 48% jump in order intake in the six months to 30 September.
MHI is one of the five partners in the PW1100G programme, together with P&W, MTU in Germany, and two other Japanese companies – IHI and Kawasaki Heavy Industries.
On 11 September, P&W parent RTX said that around 600-700 engines, which power the Airbus A320neo-family aircraft, must be removed and inspected between now and 2026 for defective high-pressure turbine and compressor discs.
The move has impacted a growing number of airlines globally, with many warning of operational disruptions in the near-term.
Separately, MHI's aircraft, defence and space business unit reported a 39% increase in operating profit for the half-year, with defence and space divisions seeing the sharpest rise in revenues.
MHI also booked several large orders in defence and space, including for projects related to stand-off defence capabilities. This led to a six-fold jump in order intake for the defence and space divisions, along with a 22% increase in revenue.
Commercial aerospace, meanwhile, saw its order intake grow nearly 20% year on year, while revenues rose 19%.
MHI attributes the increase to a rise in aerostructures deliveries, as well as a depreciation in the Japanese Yen. The unit delivered 19 shipsets across the Boeing 777 and 787 programmes, compared to 14 a year ago.
MHI finance chief Hisato Kozawa says the company is "on track" to achieve its financial goals set out in its medium-term business plan.
Adds Kozawa: "However, we must avoid overconfidence and maintain vigilance across all of our businesses to ensure that we are delivering quality products to our customers on time and within budget as we move forward into the second half of FY2023."