Mitsubishi Heavy Industries (MHI) has formally terminated the SpaceJet regional jet programme, citing challenges standing in the way of service entry.
In its third-quarter results for the 2022 financial year, MHI says that "paused SpaceJet M90 development activities [are] to be discontinued." The move confirms Japanese media reports that the firm was on the verge of terminating the programme.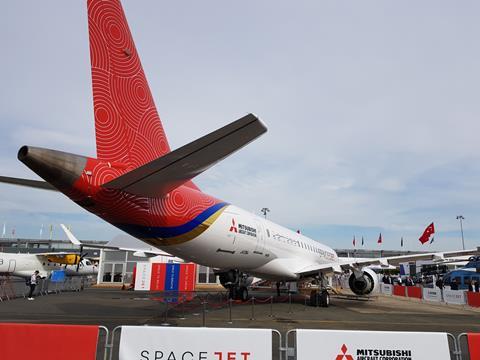 It adds, however, that learnings from the programme, which has effectively been in stasis since 2020, will contribute to Japan's aviation sector, "which aspires to return [complete] aircraft manufacture to the country."
MHI offers four reasons for terminating the programme, known as the Mitsubishi Regional Jet until a rebranding in 2019.
It suggests that technology, and specifically that needed to decarbonise aviation, has moved beyond SpaceJet in its current form. In addition, MHI has found it "difficult to obtain understanding and necessary co-operation from global partners."
At its peak in the mid-2010s, the ambitious programme had well over 200 orders, mainly from US regional airlines and Japanese carriers.
But those US orders were complicated by the scope clause agreements at US airlines, which meant that the SpaceJet M90 failed to meet the needs of its primary North American market. Found in contracts between major US airlines and their pilot unions, scope clauses generally prohibit those carriers' regional partners from operating aircraft with a maximum take-off weight (MTOW) exceeding 39,000kg (86,000lb).
Mitsubishi Aircraft was already well into flight testing of the M90 when, at the 2019 Paris air show, it launched the 76-seat M100 for delivery from 2024. With a 39,000kg MTOW, the M100 was specifically tailored to comply with US scope clauses.
More broadly, MHI adds that pilot shortages also raise questions about the viability of the regional jet market, and that "extensive funding" would be required to pursue a type certificate.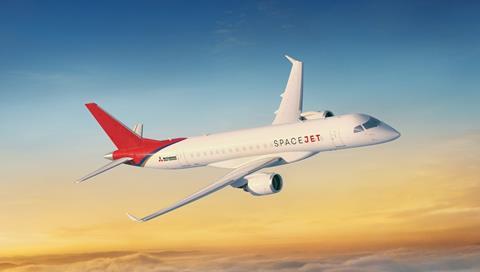 Under "lessons learned," MHI believes that it misunderstood the complexities of the type certification process and lacked the resources necessary for long-term development.
It also lists achievements, namely 3,900 flight-test hours with no safety issues as well as the achievement of type certification in Japan.
Going forward, MHI does not rule out future aircraft development programmes using new technology and aims to apply knowledge gained during the SpaceJet campaign in its development of Japan's Next Generation Fighter, which will be developed in conjunction with Italy and the United Kingdom.
In the three months to 30 December, MHI's Aircraft, Defense, & Space division generated revenue of Y432 billion ($3.3 billion), up 8% from a year earlier. Profit at the division grew 11.1% year on year, to Y20.4 billion.
Revenues and profits rose owing to increase deliveries of aerostructures for cargo aircraft and business jets. The company also benefited from cost reductions at the aerostructures business.
Revenue at the company's aero engines business – which is grouped under MHI's Energy Systems unit — nearly doubled to Y82.8 billion, as spare parts sales and MRO surged with the world's air traffic recovery.