Mitsubishi Aircraft's recently-announced organisational shake-up has seen the departure of at least two high-profile executives — its chief development officer and its global marketing and strategy head.
The airframer on 15 June announced that it was shifting its focus from global development to achieving type certification for its SpaceJet regional aircraft programme, amid cost pressure arising from the coronavirus outbreak's impact on the aviation sector.
It also promoted company veteran Yasuhiko Kawaguchi to the role of executive chief engineer, where he will oversee aircraft design and type certification. The airframer, which has seen its budget for the year ending 31 March 2021 halved amid widening losses, suspended development of the 76-seat SpaceJet M100 variant, and will halt all flight testing of the M90 variant.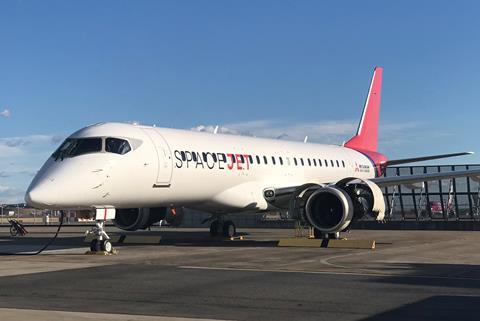 Responding to FlightGlobal's queries, Mitsubishi Aircraft said that the reorganisation meant the company has had to make "some very difficult decisions, as well as implement the change from global development activities to activities of appropriate scope".
On chief development officer Alex Bellamy's departure from the company, it states: "Any personnel changes being made…[are] aimed at building an appropriate organisational structure to support our new direction and focus, and to realign resources to help us endure this crisis."
The company confirms that Bellamy stepped down, adding: "His leaving the company is an unfortunate, but natural transition of the major reorganisation and shift in focus".
It stressed that Kawaguchi's promotion was not to take over Bellamy's role, "but rather [to support] the company's new focus and direction".
"Based on our planned activities from now, we will focus on obtaining [type certification] without a chief development officer position for the time being," it adds.
News of the reorganisation also comes as the company closed most of its overseas bases and consolidate activities to its Nagoya headquarters, which FlightGlobal first reported in late May.
Mitsubishi Aircraft says that the consolidation of operations impacts "nearly all of our employees in North America", including its head of global marketing and strategy Steve Haro, as well as the global marketing team.
Haro's LinkedIn profile indicates he joined Mitsubishi Aircraft in 2019, having previously worked with Boeing. Bellamy, meanwhile, joined in 2016 from Bombardier. His LinkedIn profile indicates he started as a flight test programme manager, and assumed the chief development officer role in 2018.