Mitsubishi Heavy Industry's (MHI) aircraft, defence and space unit expects a significant rise in defence order intake this year – led by an uptick in missile systems orders – as Japanese defence spending grows.
In its 2023 financial year, which ends 31 March 2024, the unit forecasts overall order intake to rise 42% year on year to Y1 trillion ($7.5 billion). Defence orders are expected to grow, while orders for commercial aviation – which includes aero engines and aerostructures – are expected to hold steady.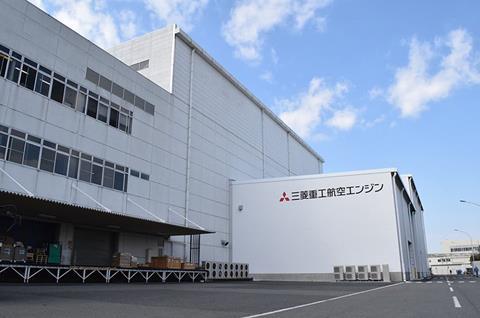 Tokyo in December greenlit a 20% increase in defence spend for the 2023 fiscal year, amid regional geopolitical uncertainty, coupled with growing threats posed by China and North Korea.
MHI's outlook comes as the unit reported a 66% jump in operating profit. For the year to 31 March, the division was Y39.9 billion in the black, an increase of 66% year on year.
Revenue for the full year was up 2% to Y619 billion, led by an uptick in commercial aviation earnings. Defence revenue dipped slightly against the year-ago period, notes MHI.
The unit's order intake for the year fell 9% to Y704 billion, despite a rise in commercial aviation orders.
MHI notes the commercial aviation segment performed better due to "foreign exchange effects as well as fixed cost reductions" in its aerostructures business.
As a group, MHI remained in the black for the year, posting an operating profit of Y193 billion, in spite of "downward pressure from materials and logistics cost inflation".