Mitsubishi Heavy Industry's (MHI) defence and space division recorded "striking growth" in quarterly order intake, as it booked "several large projects" in line with the Japanese government's increased defence spending.
The defence and space division saw order intake for the April-June quarter jump nearly ten-fold year on year to Y649 billion ($4.5 billion), on the back of commitments from Japan's defence ministry for "projects mainly related to stand-off defence capabilities."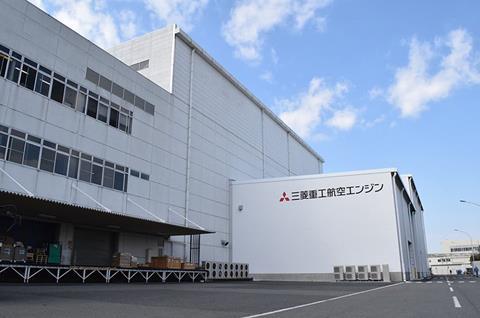 MHI had previously indicated that Japan's increased defence spending will help boost its order intake. Tokyo in December greenlit a 20% increase in defence spend for the 2023 fiscal year, amid regional geopolitical uncertainty, coupled with growing threats posed by China and North Korea.
MHI's aircraft, defence and space unit, which also comprises the commercial aviation business, saw overall order intake grow more than six-fold year on year to Y687 billion.
The unit was Y9.2 billion in the black for the quarter, improving on the Y7.5 billion operating profit in the year-ago period.
Quarterly revenue grew 16.5% year on year to nearly Y146 billion, led by a 22% jump in commercial aviation revenues. MHI notes that the commercial aviation segment benefited from an increase in Aero Structures deliveries, coupled with a weaker Japanese Yen.
As a group, MHI reported an operating profit of nearly Y52 billion, a 37% increase year on year, which it attributes to "organic topline growth, services business expansion, successful cost pass-throughs" as well as foreign exchange gains on a weaker Yen.
MHI finance chief Hisato Kozawa says: "During the first quarter, the Yen traded more weakly against foreign currencies than initially forecast, which in some cases gave a boost to our earnings. However, depreciation of the yen has proved to be a double-edged sword, leading to increased energy and other costs within Japan. As such, we will continue to monitor global market conditions closely."