Monte Aircraft Leasing has further increased its potential orderbook for low-emission aircraft, signing a letter of intent with the UK's Cranfield Aerospace Solutions (CAeS) for 40 hydrogen-electric conversion kits for the Britten-Norman BN-2 Islander.
A spin-off from turboprop lessor Montrose Global Aircraft Management, Monte has now signed tentative agreements for hydrogen- or hybrid-electric conversions with four powertrain developers including Ampaire, Dovetail Aviation and ZeroAvia.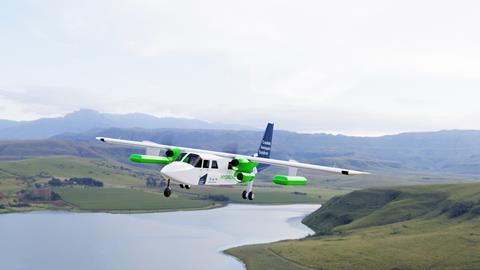 As part of the latest agreement, Monte will become CAeS's recommended finance partner and Cranfield will become the lessor's exclusive provider of hydrogen-electric Islanders. Similar provisions were included in Monte's deals with Ampaire, Dovetail and ZeroAvia.
CAeS says the pact will bring financing and leasing solutions to sub-regional operators to enable them to adopt zero-emission aircraft. Infrastructure to support the novel powertrain will also be included in the offer.
"We are delighted to be able to sign this deal with Monte, a company that we believe shares the same ambitions and values as us," says CAeS chief executive Paul Hutton.
"It's an extremely exciting time for Cranfield Aerospace Solutions as we continue to gain sales momentum in the market."
Timothy Eyre, director of Monte, adds: "This partnership represents another important milestone on our journey to becoming carbon neutral by 2027."
Should all of Monte's existing agreements be finalised, it would boast a fleet of 240 low- or zero-emission aircraft.
Service entry of the fuel cell-powered Islander is expected in 2025. CAeS will modify the type with large underwing hydrogen fuel tanks and electric motors. It is also working with Reaction Engines to incorporate high-efficiency, low-drag, low-mass heat exchangers in pods under the nacelles.
Development of the hydrogen-electric conversion, also known as Project Fresson, is part funded by the UK government through the Aerospace Technology Institute.

Dominic Perry is deputy editor of Flight International but also contributes extensively to flightglobal.com. Although specialising in the coverage of the helicopter industry, he has written on most topics in aerospace – be they commercial, defence or business aviation. In addition, there has been an increasing focus on the decarbonisation of the industry and zero-emission flight initiatives.
View full Profile