A panel of Asia-Pacific MRO leaders has called for a "harmonisation" of industry standards amid a manpower crunch, and discussed a shortage of spare parts.
Asia Digital Engineering (ADE) chief Mahesh Kumar says aviation regulators in Asia-Pacific region should work towards what he calls an "inter-signing", which will see approvals to convert and re-certify engineer licences from different countries sped up.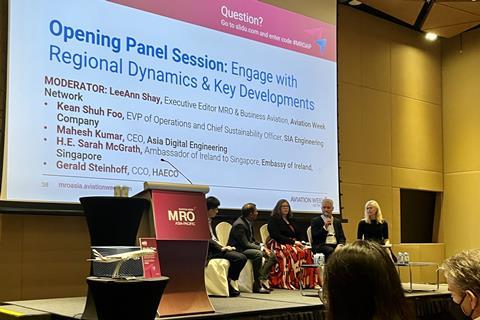 Citing ADE as an example, he says that while the Malaysia-headquartered MRO provider has operations in Southeast Asia, including locations in Indonesia and Thailand, it is a lengthy process to move talent around because of different regulatory standards.
Mahesh was speaking as part of a panel discussion at the opening of the MRO Asia Pacific event in Singapore on 26 September. Panellists agreed that manpower remains a challenge facing a sector seeing a surge in demand.
Concurring, fellow panellist Kean Shuh Foo notes the "different standards in licensing requirements" in the region.
"Some harmonisation between the aviation authorities will definitely be helpful to facilitate the movement of talent…and bring up the whole industry," Foo, who is the executive vice-president for operations at SIA Engineering (SIAEC), adds.
While there are technical agreements on maintenance at a country-to-country level, Foo says these agreements are "not very common", which leads to a "laborious" conversion and certification effort.
Gerald Steinhoff, group commercial chief of Hong Kong-based HAECO, says regulators working together will "help partially resolve some of the issues facing the MRO industry". Hong Kong, for instance, eased regulations for Mainland Chinese coming to the city for work.
"It's now possible to have Mainland Chinese employees – like our mechanics and engineers – to come to work in Hong Kong, in our facilities, and then go back in the evening," Steinhoff says.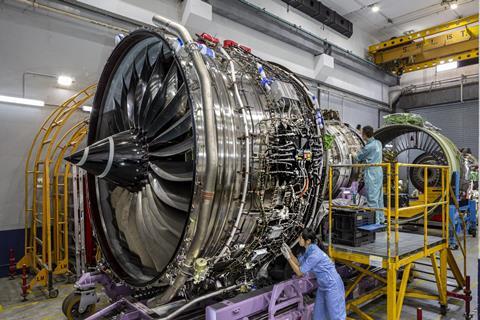 The issue of manpower featured prominently in the panel discussion, with the MRO leaders saying that they have had to "balance" finding qualified talent and expanding capacity.
The panellists also flagged a shortage of aircraft parts among other difficulties facing the sector, with Steinhoff saying that the shortage of engine parts is the "number one issue" for HAECO, though he notes that it remains a "mixed picture".
Foo says the supply chain issue is more acutely felt in the shortage of specialised parts.
Meanwhile, Mahesh points to compoenent "bottlenecks", where certain parts "only have a single manufacturer".
"There should be more options in the supply chain, rather than a sole supplier…[this] will reduce the burden on any single OEM…any single supplier, because it has become a bottleneck now," he adds.