Aviation consultancy Alton has identified ongoing supply chain snags and engine reliability issues as areas of opportunities for the global MRO sector, as it forecasts MRO spend to continue to grow in the near-term.
In its 2023 industry forecast, Alton expects global MRO spend to be around $112 billion this year, up from 2022's $101 billion. The figure is expected to grow to $139 billion by 2033.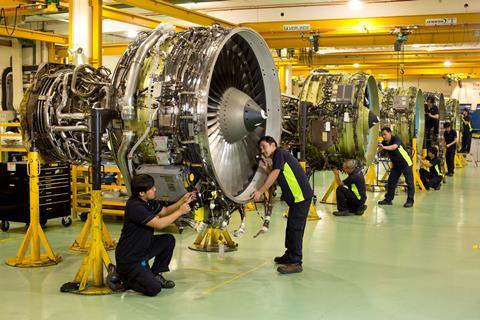 The consultancy also notes that while the Covid-19 pandemic is largely "in the rearview mirror", there are "lingering effects" of the pandemic, such as workforce and supply chain snares, that continue to impact the sector. Yet, it believes that MRO demand will see "significant" growth year on year, as a result of post-pandemic recovery.
Alton's report states: "The combination of higher material cost escalation and labour cost inflation, faster-than-expected traffic recovery (resulting in higher aircraft utilisation), and fewer-than-expected retirements contribute to significant year-over-year MRO demand growth as compared to historical growth rates."

This is particularly true for ongoing aerospace challenges, like issues facing newer generation engines - such as Pratt & Whitney's troubled PW1100G engines - that will drive near-term demand.
"New-generation engine reliability has not improved significantly since their entry-into-service, and with the swift traffic recovery, engine MRO facilities are full, but with many engines waiting for spare parts to complete overhauls," adds Alton, which also forecasts engine maintenance to represent around of all MRO spend this year, ahead of component MRO (around 22%) and line maintenance (11%).
On supply chain issues, Alton believes that while it will have "the greatest impact" on its forecast, there are silver linings to ongoing challenges.
With manufacturers "struggling to ramp up" production, Alton notes that airlines are delaying the retirement of middle-aged aircraft to mitigate aircraft shortages.
"This will positively impact the MRO market, as older aircraft have higher maintenance needs," it adds. However, and in the longer term, the forecast says MRO growth is likely to be uneven across different segments, as a result of "deep production cuts" amid the pandemic.
The report adds that Asia-Pacific will be the largest source of MRO demand - at more than a third - ahead of North America and Europe, which each represent about 20% of global demand.