MTU Aero Engines is predicting a strong final quarter to the year on the back of a rebounding commercial aviation market.
Detailing its financial performance for the third quarter on 27 October, the German propulsion specialist raised its full-year guidance to €5.4-€5.5 billion ($5.38-$5.48 billion), up from €5.2-€5.4 billion previously.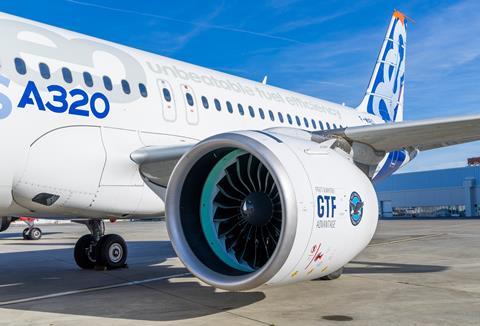 Revenue for the nine months to end-September hit €3.82 billion, up from €3.01 billion in the same period of 2021, with operating profit up 46% year on year to €448 million.
"Based on this good performance and the current situation, which includes a favorable development of the US dollar exchange rate, we can increase our forecast today," says Reiner Winkler, MTU chief executive.
The improved outlook has been driven by a booming maintenance business, nine-month revenue for which rose 32% year on year to €2.64 billion. Although overhaul activities for Pratt & Whitney PW1000-series Geared Turbofan (GTF) engines was "below expectations" in the period, this is expected to pick up in the final quarter of the year.
MTU is a partner on the GTF programme, contributing 15-18% of each engine's content depending on the variant. The manufacturer saw the supply of original equipment also rise across the nine months, largely due to increased demand for the PW1100G for Airbus A320neo-family jets. Revenue for the segment stood at €946 million, up from €765 million in the same period of 2021.
"The first two quarters of the year were a bit weaker, so really we have a sequential improvement now," Winkler told analysts this morning, noting that shipments were up 20% across its whole civil portfolio during the third quarter.
"If you do the maths you can see that in quarter four OE [original equipment] deliveries will have to grow 40-50%," he says. In part that is due to P&W's production schedule, which has been hit by supply chain shortages, pushing shipments into the final quarter.
Performance in the defence business was flat, meanwhile, as supply issues delayed production and maintenance work.

Dominic Perry is deputy editor of Flight International but also contributes extensively to flightglobal.com. Although specialising in the coverage of the helicopter industry, he has written on most topics in aerospace – be they commercial, defence or business aviation. In addition, there has been an increasing focus on the decarbonisation of the industry and zero-emission flight initiatives.
View full Profile