Cranfield Aerospace Solutions (CAeS) has opened a newly refurbished hangar and research and development centre to support its preparation of hydrogen-powered aircraft.
Formally opened on 27 July at the Cranfield University campus site in Bedfordshire, east England, the modernised facility was originally built as a Second World War structure.
Work is already under way in the hangar to advance Phase 1A of Project Fresson, which will in late 2024 fly a Britten-Norman Islander modified to operate using hydrogen as fuel.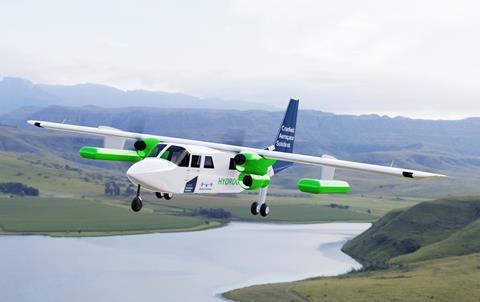 Registered as G-HYUK, the aircraft's right-hand Lycoming IO-540 piston engine will be replaced with a full zero-emission powertrain incorporating an Evolito D1500 axial flux electric motor producing 240kW, a Ricardo-supplied hydrogen fuel cell, and Reaction Engines' intercooler technology.
CAeS chief executive Paul Hutton stresses the importance of the Phase 1A activity trialling a full system, noting that the electric motor's delivery of 220kW to the propeller will match the legacy engine's power output.
"We will package all of that power in the existing nacelle. We will manage the weight of that full 100%-plus power on the wing. We will deal with the thermals of producing all that power, and we will do that without impacting the drag on the aircraft," he says.
"That approach is very different from our competitors, because in essence we are facing up to the real challenges of getting the real [Phase 1B production] aeroplane flying in our demonstrator, and that means we'll be much closer to getting a product to market."
The new propulsion system – elements of which are already in rig testing at supplier companies – will undergo ground tests using an iron bird at Cranfield.
"We will do a lot of testing on the full end-to-end system on all the scenarios that we would expect the aircraft to see in flight," Hutton says. This will be followed by incorporating any required small changes, prior to the flight-test campaign starting.
"We've made huge progress on the engineering challenges of Project Fresson. We've identified some very serious design, subsystem design and integration challenges and solved them," Hutton told FlightGlobal at the opening event. As an example, he notes that engineering studies enabled a 300kg (660lb) weight saving to be made from the 3,000kg maximum take-off weight Islander to support modifications.
A fully adapted nine-seat Islander – to be available via Phase 1B of the programme – is being targeted for certification and service entry during 2026. It is projected to have a 60min endurance and 108nm (200km) range.
CAeS also is already looking to modify an existing 19-seat aircraft type for hydrogen fuel cell operation, with this to result in a range performance of 270-324nm.
The company then plans to further scale up the technology to power a clean-sheet design in the 20- to 50-seat category. Longer-term, Hutton sees a need for a 100-seat platform. "We'll do that either ourselves, or with partners – or at some point a big partner might come along and want to take advantage of the intellectual property," he says. "We don't need to own everything – we're much more likely to succeed if we work with others."
CAeS notes that its leased hangar has been updated as part of Cranfield University's decarbonisation plan, "with significant investment into reducing the building's carbon footprint". It also currently accommodates MRO work on British Aerospace BAe 146/Avro RJ regional jets and Diamond- and Piper-series general aviation aircraft.
"That core maintenance capability will evolve as we become the world's experts on how you maintain and modify zero-emissions hydrogen aircraft," Hutton says.
A current Series B funding round is seeking £30 million ($38.6 million) in investment, with the activity aimed at closure by year-end. The funds raised will support activities until the end of 2024, Hutton says.
Some £14.5 million was raised in an earlier Series A funding drive, and Hutton notes: "three of the four same investors have given us a further £4 million this year, and they've committed another £6 million. That's a significant success for the business."
Meanwhile, CAeS also is conducting research into a potential spin-off application for the technologies used in Project Fresson. Conducted with Dronamics, the activity centres on the proposed use of a hydrogen fuel cell with the Black Swan cargo unmanned air vehicle, which is capable of carrying a payload of up to 350kg.
And in the background, due diligence work continues in support of a proposed merger between CAeS and B-N, plans for which were disclosed earlier this year. The process is likely to conclude within the next month to month-and-a-half, Hutton indicates.
"We will try and bring the companies together without impacting the things that the individual companies are doing, so that six months after that we are operating effectively as a business," he says.

Craig Hoyle joined Flight International in 2003, and has edited the now monthly title since 2015. He has reported on the UK, European and international military aviation sector for more than 25 years, and produces our annual World Air Forces directory.
View full Profile