Britten-Norman (B-N) has heralded "a new dawn" for its evergreen BN-2 Islander, after formally opening a new domestic production line which will next year complete the first wholly UK-built example of the twin-engined type since 1968.
Manufacturing activities are already under way at the company's Bembridge site on the Isle of Wight off the south coast of England, where a recently reactivated assembly jig is also ready to receive fuselage structures.
"The first UK Islander now in production is due for completion in May 2024," the company says, with the aircraft on order for the Falkland Islands Government Aviation Service (FIGAS).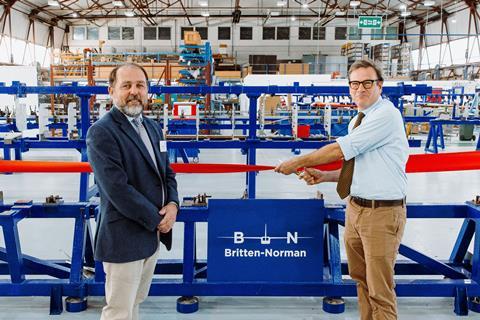 B-N earlier this year repatriated production capability after terminating a decades-long outsourcing arrangement with Romaero in Romania, from where a second assembly jig is also to be returned to the UK, along with production material.
Speaking during an opening event for the new line at Bembridge on 21 September, B-N Group chief executive William Hynett said: "Our aim is to build British, and export to the world."
The airframer says the production shift is "the culmination of years of strategic planning", and is an essential step for it to meet an objective of significantly boosting output over the coming years.
STRONGER POSITION
"Returning manufacturing to the UK will not only strengthen the company's position as the world-leading sub-regional aircraft manufacturer, but also contribute to the growth and development of the British aerospace industry," it says.
Hynett hails his predecessors' vision in having moved production behind the Iron Curtain in the late 1960s, describing the company as having been "a ridiculously early outsourcer". That arrangement peaked at an output of about 100 aircraft per year, but he says managing the remote operation had become more difficult over recent years, culminating with Covid-19 pandemic disruption, which resulted in "a dearth of manufacturing slots".
Speaking to FlightGlobal at the event, he likened the decision to re-establish production in the UK as akin to removing a sticking plaster, noting: "You know it is going to hurt initially, but it has to be done."
The most recent delivery of a new-build islander by B-N was made to FIGAS in late 2020, with the passenger-roled aircraft (VP-FMC) joining four BN-2Bs which had been introduced to service by the operator between 1986 and 1992.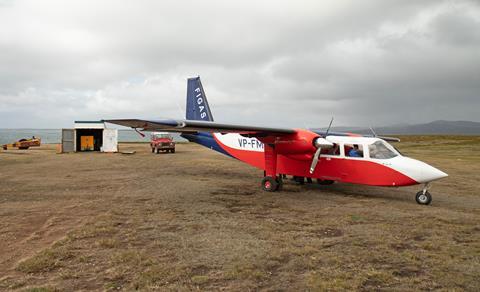 Output at Bembridge will initially be scaled at two aircraft per year, but this will rise to eight annually by 2027, with the intention of being able to surge production at a rate double this number. Once the new line is fully established, Hynett says the company will be able to produce an aircraft from scratch within a 12-month period.
"With a renewed focus on British craftsmanship and engineering, Britten-Norman will be able to enhance its production capabilities, improve supply chain efficiency, and accelerate innovation in aircraft design and manufacturing," it says.
Staffing is to increase, with the company seeking to recruit additional aircraft fitters and technicians, production engineering and supply chain management staff. A first intake of four apprentices also started work in early September, with Hynett aiming to increase this to more than 10 annually.
B-N also believes that its annual production will climb higher once a hydrogen-fuelled and electric-engined version now being developed in partnership with Cranfield Aerospace Solutions (CAeS) becomes available.
Such a volume would require the company to seek additional investment to enable it to construct an additional hangar at the Bembridge site, which Hynett says could be needed to support the hydrogen model by around 2030.
His vision is for the company to grow activities considerably at its spiritual home on the Isle of Wight, where it was founded in 1954. Ideally, this would involve regaining the ability to complete final assembly and flight-test activities from Bembridge: a site where it has been unable to use the tarmac runway for over a decade, following a change of airfield ownership.
AIRFIELD ACCESS
Speaking at the same event, Isle of Wight MP Bob Seely pledged to "work very hard" to resolve the airfield access issue. "We want you to not only have your production line here, but to be doing the [final] assembly here as well, so this can be a one-stop shop," he says.
Without airfield access, final assembly and flight-testing will be performed at B-N's Lee-on-the-Solent site in Hampshire, where it also conducts MRO and modification work. With a workforce of around 120 employees currently, B-N also has a design office in Southampton, Hampshire, offices in London and Miami, and a presence at Luqa airport in Malta.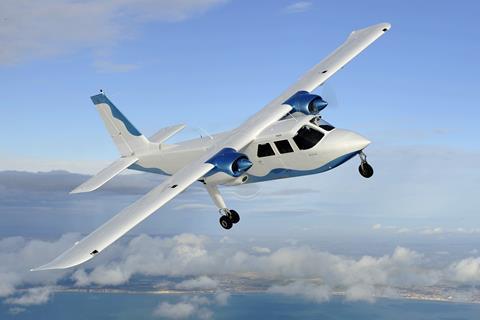 While the Islander's airframe retains its' decades-old design, new-build examples can be equipped with Garmin glass cockpit avionics and a Gensys Aerosystems autopilot, and feature "all-window seating, enlarged baggage access… [and have] a higher all-up mass [weight] than earlier variants".
"About 2,000 modifications have been done to the aircraft since its inception," and this process continues, Hynett says. "We are going to incrementally change aspects of the aircraft, by listening to customers and hearing what works and what doesn't, what needs improving, and then will incorporate those into our base production model, as best we can."
B-N has enjoyed a flurry of recent interest, with a trio of customers having signed letters of intent to take up to 19 of the type. These include Maltese start-up SJC Group (3), and Australian charter operator and existing Islander user Torres Strait Air (10).
Both customers have signed up to B-N's "Green Futures" scheme, under which they will have the option to in the future exchange their conventionally-powered aircraft for zero-emission examples.
India's Spirit Air also recently signed for six turboprop-powered BN-2Ts; a model not covered under the Green Futures initiative.
B-N flew its first Islander in 1965, and has since delivered almost 1,300 examples. The vast majority are Lycoming-engined pistons, while a small subset of the fleet is powered by Rolls-Royce turboprops.
"It is often described as the 'Land Rover of the skies'," Hynett says of the long-serving type. "It is ubiquitous, it is iconic, it is extremely rugged, and a reliable product. It is known as a go-anywhere aircraft."
The type is equally at home flying passengers to remote landing strips in the South Pacific, wealthy tourists to an eco-resort near Tahiti, connecting the Orkney Islands with the Scottish mainland, and supporting maritime pollution monitoring in Europe, he notes.
"This Islander is not just some frivolous aircraft, or a fun-piece," he says. "It is about being the backbone of communities, providing the lifeline services that are seriously important to the people who live there.
"We are a little company, with a big impact," he adds.
B-N currently supports more than 400 of the aircraft for operators in 60 nations around the globe, as far away as Alaska and French Polynesia. Additionally, "secondhand Islanders are a hot market, and they do change hands quite a lot," says Hynett, while adding: "keeping track of where those aircraft are – particularly if they operating in some pretty remote parts of the world – can be a little bit tricky".
MERGER DOUBTS
Meanwhile, a planned merger announced earlier this year between B-N and CAeS appears to have been put on hold for now at least, with Hynett referring to the Cranfield, Bedfordshire-based company as "an industry partner" with which it has a "joint endeavour".
"The point of the merger is to get a hydrogen product to market that is the most commercially viable, best product we can achieve," Hynett tells FlightGlobal. However, B-N also sees a continued market for its turbine-powered Islander, while CAeS has outlined its ambition to in the future develop its own 19- or 30-seat aircraft.
Referring to the hydrogen-powered Islander demonstrator effort, which is due to achieve first flight during 2024, he says: "Focusing on that now and doing it through a kind of strategic agreement between us is the right thing to do."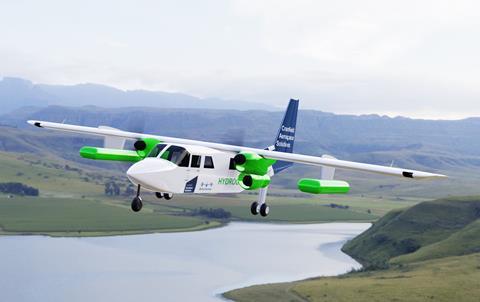 CAeS is currently adapting an Islander testbed to use a full hydrogen powertrain installed in place of its right-side engine. Fitted with an Evolito D1500 electric motor, it will demonstrate the viability of enabling zero-emission operations from late this decade.
"That is, we think, a likely future for the Islander," Hynett says of the hydrogen activity, noting: "the future is green, and I think everyone has to accept that as a fact.
"But conventional Islanders still have a really important part to play in the whole operating environment," he says, noting that hydrogen fuel availability and supporting infrastructure for operations will take many years to be rolled out around the globe.
Additionally, he notes that current technology may only enable a 45min sector to be flown using the new fuel source, "but a lot of our operators want to go to the full endurance of the aircraft – 2, 3, 4 hours".
"We will be continuing down two paths: the conventional aircraft; and the hydrogen route," he says.