Electric motor developer Evolito has welcomed back one of the individuals responsible for spearhading its development as an aviation business inside automotive supplier Yasa Motors.
Dr Chris Harris rejoined Evolito earlier in November having assisted with the integration of Yasa into Mercedes-Benz after its acquisition by the German giant in 2021. Evolito was in turn spun out of Yasa earlier this year.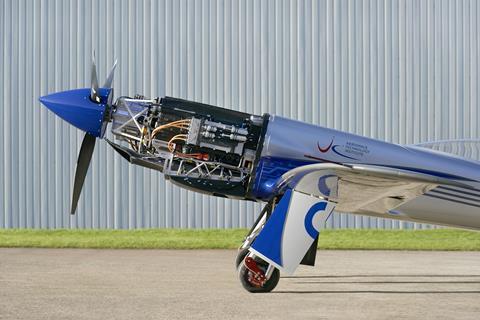 Harris says his appointment as chief executive suits his mindset: "What I have always enjoyed doing is taking early stage technology all the way through to market and to profitability," he says.
"So for me it was a perfect fit to take a technology that I understand, having gone through that whole journey with Yasa, and start again in the aerospace market with Evolito."
Harris is now leading Evolito's efforts to commercialise its axial flux aerospace motors, which it says are lighter and more compact than alternative radial motor designs. Harris claims a weight-saving of 30-50% depending on the configuration.
Development activities are ongoing in collaboration with several undisclosed aircraft manufacturers, from both the fixed-wing and electric vertical take-off and landing (eVTOL) segments; Evolito aims to "get the first sample deliveries" to customers in 2023, Harris says.
Evolito offer motors, power inverters and batteries – the latter thanks to its purchase earlier this year of Electroflight – whether as separate systems or as an integrated electric propulsion unit.
Its focus is on the general aviation and eVTOL markets initially as they are "where electrification is going to have an early impact".
He adds: "It's really developing the right products, developing the right relationships with customers to deliver what we think are highly differentiated products that will aid the acceleration of electrification in aerospace."
Evolito is trying to "dovetail" its development, certification and industrialisation timeline with those of its airframe partners, he says, potentially leading to service entry towards the back end of 2024 or in early 2025.
Industrialisation of Evolito's products will be a vital part of the process, as it looks to hit quality, price and, crucially, volume targets, a process that should be helped by its history.
"We bring across all of that kind of learning from Yasa that we can apply straight into Evolito," Harris argues.
"So, when the eVTOL market takes off, we will be in a good position to scale our manufacturing to volume, which might be tens of thousands, might be 50,000, maybe even 100,000.
"But we know how to do those kinds of numbers because we have done it before in an automotive market. And I think there are very few aerospace companies that could say they have scaled to those kinds of volumes."
A new factory to manufacture motors and inverters is set to open in Bicester, central England next year.
However, Electroflight will for the moment remain at its current facility at Gloucestershire airport in Staverton, around 1h to the west.
Acquired for £150,000 ($170,000) via a pre-pack administration process in July, the aviation battery specialist is being integrated into the wider Evolito operation.
Harris says it is currently formulating a longer plan for the unit, including target markets and customers. "We are in the process of putting that strategy together to define exactly what our long-term technology and product roadmap should be."
That process has been "interesting", he adds, as it has given Evolito "a better appreciation of the whole powertrain and the impacts, which are significant, that the battery pack has on the overall airframe design".
The two companies had previously worked together on the Rolls-Royce-led Accel project that last year set several speed records for an electric aircraft.
"We knew the team and knew what their capabilities were, so it wasn't in our plan to go and do it [the acquisition] but the opportunity came up. It was a really good opportunity that we wanted to pursue."
While Harris says Yasa always had a plan to develop an aerospace division, likely spinning that out over a two- or three-year period "that just all got accelerated with the acquisition by Mercedes".
Investment has come from funds associated with financial firm B-Flexion and one of its group managing partners, Cyrus Jilla, is an Evolito director.

Dominic Perry is deputy editor of Flight International but also contributes extensively to flightglobal.com. Although specialising in the coverage of the helicopter industry, he has written on most topics in aerospace – be they commercial, defence or business aviation. In addition, there has been an increasing focus on the decarbonisation of the industry and zero-emission flight initiatives.
View full Profile