Three years have passed since Covid-19 flattened air travel, and the global fleet of commercial jets has still not quite recovered to pre-pandemic levels.
It is ever so close – but the recovery has taken longer than anticipated, prompting consultancy Oliver Wyman to slash its long-term fleet forecast.
The firm's latest report, released 23 February, predicts that in early 2033 the world's carriers will operate 36,305 aircraft, including turboprops and regional, narrowbody and widebody jets.
That equates to an expected 2.1% average annual growth rate during the 13 years between early 2020 (immediately (before the pandemic flattened air travel) and 2033.
The projections differ notably from those in Oliver Wyman's same report last year, which estimated the fleet would hit 38,200 aircraft by 2032 – 2.7% average annual growth since 2020.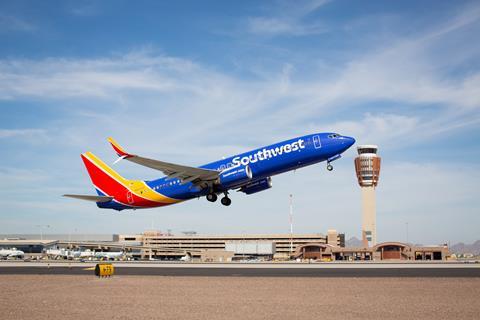 "Over the next decade, aviation's drive to expand is likely to bump up against various limitations from an overwhelmed supply chain, labour shortages and new rules on emission reduction," the new report says. "That will push the industry to either develop innovative solutions or scale back."
In recent weeks, US carriers have significantly trimmed fleet-growth plans in response to aircraft-delivery delays by Boeing and Airbus. Executives at manufacturers have called out shortages of engines. Boeing's output has also been hindered by the delayed (and still-outstanding) certification of its 737 Max 7 and 10, and 787 quality problems that have prompted delivery delays.
Oliver Wyman now expects aircraft manufacturers will deliver about 20,340 commercial aircraft in the next ten years. Last year's report predicted 21,200 deliveries over a decade.
It says airlines globally opened 2023 with 27,385 aircraft, a 7% year-on-year bump coming despite elevated inflation and interest rates, supply chain and labour troubles, Chinese travel restrictions and disruption from the Russia-Ukraine war.
But the fleet remains about 2% shy the early 2020 benchmark.
"The most-vexing challenges for aviation were widespread labour shortages," says the report. "The labour shortages contribute to supply chain snarls that have already led to longer lead times on parts — sometimes of more than a year."
Oliver Wyman notes that the pace of fleet recovery differs substantially by region, with North America's airlines having already fully recovered. Fleets in India, Africa, Latin America and the Asia-Pacific regional will return to pre-Covid numbers until 2025, the report predicts.