Advanced air mobility developer Overair has completed ground tests of its electric propulsion system as it pushes toward a 2023 first flight of its tiltrotor-based Butterfly vehicle.
"We have just completed full-scale propulsion system testing and now we are well under way building a full-scale flying prototype which will be flying towards the end of next year," says Overair chief executive Ben Tigner.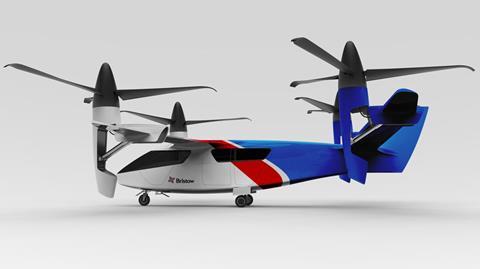 For the tests, Overair mounted one of the aircraft's four propulsors, which includes a battery-powered electric motor driving a 6m (20ft)-diameter rotor, to a truck weighing 2.7t. Ground runs were performed with the rotor in both the vertical and horizontal positions.
"The results showed that the propulsor behaves in the way it was designed to. As expected, it was very quiet," says Tigner.
That has been driven by the size of the rotor blade and disc area relative to the aircraft, allowing a rotor speed of around 400rpm in hover and 200rpm in forward flight – much lower than traditional helicopters.
The Butterfly should be able to carry five passengers and one pilot on flights of up to 87nm (160km) with a cruise speed of 173kt (320km/h).
Tigner sees a "path to certification by 2025" but concedes it could be later as "inevitably there are going to be process delays" as the Federal Aviation Administration (FAA) grapples with the requirements of the new technology.
In common with many of its peers, Overair sees the need for a pilot on board at service entry – and for five to 10 years after that. "We are capable of being fully autonomous but we don't think the flying public or the FAA will accept that until a certain level of safety is demonstrated," says Tigner.
Overair was spun out of defence specialist Karem Aircraft, and Tigner believes the technology that was provided to it as part of the separation will set the company apart from its peers.
Details of the orderbook for the Butterfly are scant, however: Bristow Group is the only identified customer to date with a tentative deal for 20-50 units. Tigner declines to reveal the size of its backlog but says Overair has "a number of partnerships in place".
"But we are where we want to be – we have not gone and signed the kind of airline orders others have gone after."
In addition, Overair has eschewed a public listing – it is owned by parts of South Korea's Hanwah Group – "which allows us to operate in the way we believe follows the most efficient path to a certifiable aircraft.
"Many competitors have had to do things in service of public recognition and public funding. We have the freedom to do engineering and airplane certification in the right way without the distraction of marketing."
Meanwhile, Overair is still working to firm up its supply chain, says newly appointed chief commercial officer Dr Valerie Manning, including which elements of the manufacturing to keep in-house.
The flight-test aircraft is being built at Overair's 200,000sq ft site in Santa Ana, California, what Tigner calls its "prototyping and low-rate facility"; it is likely to seek an additional production site outside of California, he adds.

Dominic Perry is deputy editor of Flight International but also contributes extensively to flightglobal.com. Although specialising in the coverage of the helicopter industry, he has written on most topics in aerospace – be they commercial, defence or business aviation. In addition, there has been an increasing focus on the decarbonisation of the industry and zero-emission flight initiatives.
View full Profile