After completing ground testing of its propulsion system last year, Southern California's Overair is focusing on building and flying the production prototype of its "Butterfly" air taxi.
The Santa Ana, California-based company tells FlightGlobal it is finalising the design of a full-scale prototype of its six-person aircraft, and that it has assembled the fuselage, wings and other components. It plans to begin a flight-testing programme next year and launch commercial operations ahead of the 2028 Summer Olympics in Los Angeles.
Overair has positioned itself in the second wave of eVTOL developers following Archer Aviation, Beta Technologies and Joby Aviation, which are seeking to become the first air taxi developers in the USA to clear certification and begin commercial passenger flights as soon as 2025.
Like its competitors, Overair faces an array of challenges related to unclear certification pathways, astronomical development costs, expensive infrastructure and the largely unknown factor of public acceptance.
But Overair believes Butterfly has the edge over competing eVTOL designs. During the Air Taxi World Congress in San Francisco earlier this month, Gonzalo Ramos, the company's head of development and sales, said the aircraft will be marketed for missions currently performed by helicopters, in addition to air taxi operations.
"What we are concentrating on is a very simplified design versus a helicopter," he says. "It is a very simple four-rotor design that has significantly less parts that are prone to wear and tear. That reduces a lot of maintenance costs, which I think is a big component on the part of buyers."
Overair claims its vehicle will be relatively quiet. Butterfly's four large and slow-moving tilt-rotors are designed to conserve energy and make less noise than aircraft with eight, 10 or 12 rotors.
"It is a very efficient propulsion system and it's going to be very quiet," Ramos says. "We believe it is going to be the quietest of all the eVTOLs. We're focusing very much on that in terms of programme development… From a nuisance perspective, we have a very low frequency, which actually dissipates much better." Overair also believes the size of Butterfly's precision-controlled rotor blades will support a smoother ride than competing air taxi designs.
The propulsion system is "one of the more vital and critical design features of our aircraft", Ramos adds. Overair claims its proprietary electric-propulsion technologies "create critical power reserves using today's commercially available battery cells".
The company is developing those technologies in-house to reduce costs. "What we did early in the process was do a full-scale prototype test of our propulsion systems," Ramos says, referring to truck-mounted rig testing. "We validated that technology, which allows us to get to the next stage of maturing the design."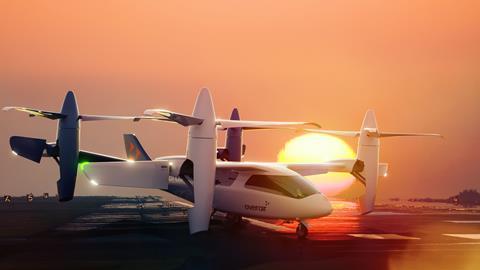 The company has yet to identify a battery supplier for Butterfly. Ramos says it is waiting as long as it it can, adding that "if we choose a battery today it will be obsolete next year".
While the aircraft's estimated 87nm (161km) range is based on current battery technology, the platform is designed to be upgradable as advancements become available.
A spin-off from Karem Aircraft, Overair was co-founded by Abe Karem, who designed the General Atomics Q-1 Predator, among other UAVs. It became an independent company in 2020.
Earlier this year, the start-up expanded its manufacturing space in Santa Ana to 18,580sq m (200,000sq ft), allowing it to handle development and initial production "under one roof", Ramos says.
On the commercialisation front, Overair recently set its sights on the emerging AAM market in South Korea, a country that intends to enable passenger-carrying eVTOL operations as soon as 2025.
On 24 October, it said it secured a letter of intent from HeliKorea to purchase 20 of its eVTOLs for medical, executive and cargo transport, in addition to firefighting and power-line-inspection applications. The company does not disclose financial terms of the deal.
Additionally, Overair recently announced it is partnering with financial backer Hanwha Systems and the government of Jeju, the largest and most populous island in South Korea, to develop an "AAM ecosystem" that would allow for the operation of eVTOLS for public, medical and tourism purposes.
It is also seeking to adapt Butterfly for law enforcement operations in South Korea as part of Overair's broader strategy to establish advanced air mobility in the region, says chief executive Ben Tigner: "These exciting new projects… will bring real benefits to the communities they impact and provide a solid foundation to further AAM adoption across Southeast Asia."