US electric aircraft developer Overair is collaborating with Texas officials on air taxi operations at Dallas-Forth Worth International airport and in the city of Arlington.
The Santa Ana, California-based start-up said on 16 November that it has formed a "historic partnership" to develop electric vertical take-off and landing (eVTOL) aircraft operations at Arlington Municipal airport, connecting passengers to points throughout the Dallas-Fort Worth area.
Overair calls the agreement the "first-ever direct agreement between a city in the state of Texas" and an eVTOL maker.
The company has also signed a memorandum of understanding with Dallas-Fort Worth International creating a "joint, cross-functional working group to explore the policies and infrastructure needed to implement an integrated, sustainable eVTOL programme".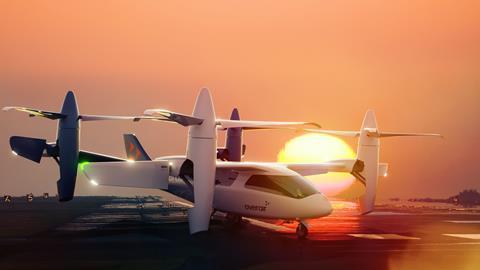 The group hopes to establish operational procedures for eVTOLs – including approach, landing, taxiing, charging and loading passengers on and off aircraft – and to establish safety standards for those operations.
Overair says it will lead a study on the demand for electric air taxi services in the Dallas-Fort Worth area and evaluate potential operations "in and out of vertiport locations".
"Today's agreement is a major step toward bringing advanced air mobility to one of the world's largest and fastest growing metropolitan areas," says Valerie Manning, Overair's chief commercial officer. "We look forward to working closely with DFW to ensure the more than 8 million people living throughout this region, along with the millions of visitors per year, will have easy access to safe, fast, affordable and eco-friendly travel options."
The planned air taxi services are expected to carry passengers to the area's entertainment district, which is home to theme parks and major sports franchises.
Overair also plans to establish an operational base in the region and deliver "fully integrated eVTOL ecosystem solutions – from vertiports and advanced charging infrastructure to the implementation of electric aerial ride share", the company says.
The production prototype of Overair's "Butterfly" air taxi – a one-pilot, five-passenger, all-electric aircraft – is under assembly at the company's facility in California. The aircraft's four large and slow-moving tilt-rotors are designed to conserve energy and produce minimal noise pollution. It is estimated to have a range of 87nm (161km) based on currently available battery technology.
The start-up plans to begin flight-testing the prototype next year, and to eventually market the vehicle for air taxi services and missions currently performed by helicopters.
It plans for Butterfly to enter service ahead of the 2028 Summer Olympics in Los Angeles.