Pratt & Whitney has completed the first on-ground test using 100% sustainable aviation fuels on its GTF Advantage-configured PW1100G engines.
The completion of the first test, which began on 1 March at its West Palm Beach facility, marks a "key step" for the North American enginemaker's plans to roll out 100% SAF across its PW1100G-family engines.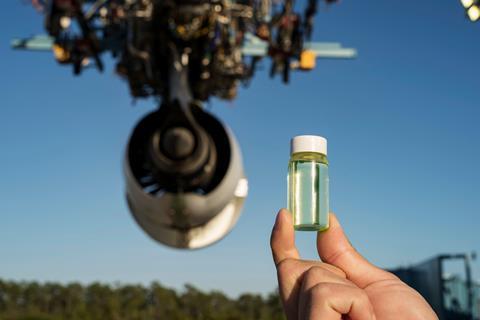 "The test is also a key element of an extensive development program to ready the GTF Advantage for entry into service in 2024, by validating the engine's performance on 100% SAF in thrust transients, starting and operability," says P&W.
For the latest test, the enginemaker used 100% vegetable oil-based HEFA-SPK (hydroprocessed esters and fatty acids synthetic paraffinic kerosine) fuel acquired from USA-based World Energy.
P&W is also working with the Commercial Aviation Alternative Fuels Initiative and ASTM International to validating its engines to operate with 100% SAF. Current standards allow for up to 50% SAF, blended with standard kerosene.
The company in early December 2021 unveiled its in-development GTF Advantage configuration for the PW1100G engines that power the Airbus A320neo family,
The GTF Advantage configuration has more power and is 1% more fuel efficient than the current variant, the enginemaker said.
P&W is aiming to deliver the first PW1100G-family engine in the new configuration from 2024