Airbus Helicopters is potentially studying a novel high-speed rotorcraft concept that combines a hybrid-electric single-bladed tandem rotor configuration with a tail-mounted pusher propeller and wings for lift in forward flight.
Detailed in a recent European Patent Office filing, the design does away with heavy brakes or clutches otherwise required to slow the rotors.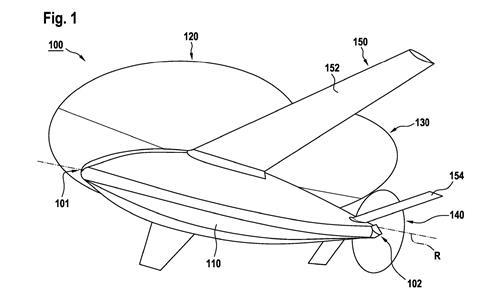 Instead the "simplified overall architecture" relies on the braking capacity of twin electric motors to stop the rotor blades as the aircraft transitions from a hover to forward flight.
This would allow the rotors to be slowed "down to a rotation speed close to zero" and ensure "an efficient and fast rotor stop in the transition phase".
The patent application suggests the rotors would be stopped "without any significant heat generation" or the need for a dedicated brake or hydraulic retarder, saving weight and freeing up space on the aircraft.
It also points out that during the process "electrical energy may beneficially be recuperated" through running one of the two motors in generator mode. Through operating the two motors in a "closed-loop", electricity from one can be used to power the other as the transition is initiated.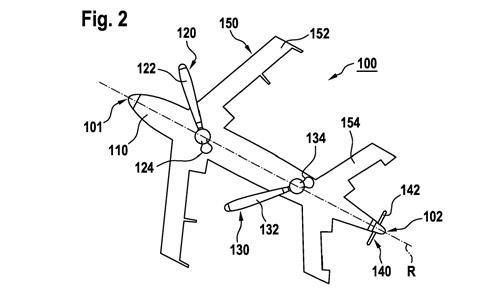 As the transition phase ends and the rotors slow to near zero, the flight-control system would deactivate the closed-loop operation and allow the electric motors to instead move the blades to a "final position" aligned towards the rear of the rotorcraft.
A third motor/generator would be connected to a thermal engine, supplying power to the twin motors connected to the rotors, or driving the tail-mounted propeller, the filing says. Batteries would be used a back-up in case of engine failure.
Synchronization of the counter-rotating rotors is achieved by a shaft connecting a pair of gearboxes.
However, while the filing of a patent indicates a manufacturer's interest in a particular technology or configuration, there is no guarantee that it will ever be employed on one of its aircraft.

Dominic Perry is deputy editor of Flight International but also contributes extensively to flightglobal.com. Although specialising in the coverage of the helicopter industry, he has written on most topics in aerospace – be they commercial, defence or business aviation. In addition, there has been an increasing focus on the decarbonisation of the industry and zero-emission flight initiatives.
View full Profile