Recently disclosed patent filings may offer a glimpse into Italian aerospace giant Leonardo's broad designs for the advanced air mobility (AAM) segment.
Unlike European rival Airbus, Leonardo has yet to reveal how it will address the nascent AAM industry, despite its long history as a helicopter manufacturer.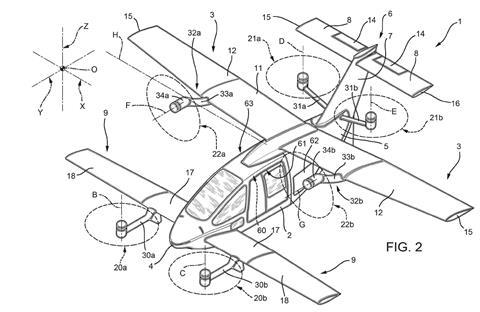 But a series of recent patent applications – filed last year and published by the European Patent Office in December – appear to indicate the airframer's direction of travel.
Those applications reveal a six-rotor design featuring a pair of "half-wings" and nose-mounted canards. One pair of rotors – those attached to the half-wing – will tilt to provide thrust in forward flight.
While far from a final aircraft, the design illustrated shows a pair of rotors located just forward of the canard, a second on the inboard section of the half-wing's leading edge, and a third on either side of the T-tail.
Leonardo says the configuration outlined removes the potential risk of "aeroelastic interaction" between the half-wing and rotors located at the end of the structure.
One embodiment uses fixed-pitch rotors which are "preferably" driven by "respective electric motors", says the application. Power comes from an electric or hybrid-electric system depending on the intended use.
Leonardo sees the design as suitable for VIP, commercial passenger and cargo transportation, or even unmanned applications, the patent filing suggests.

Dominic Perry is deputy editor of Flight International but also contributes extensively to flightglobal.com. Although specialising in the coverage of the helicopter industry, he has written on most topics in aerospace – be they commercial, defence or business aviation. In addition, there has been an increasing focus on the decarbonisation of the industry and zero-emission flight initiatives.
View full Profile