Piaggio Aerospace arrives at the Singapore air show in the midst of a second attempt to find a new owner for the Italian airframer after a previous effort foundered last year.
Villanova d'Albenga-based Piaggio has been in extraordinary administration since December 2018 after its previous owner, Abu Dhabi sovereign wealth fund Mubadala, pulled out.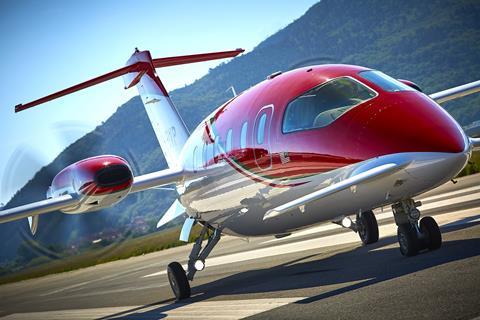 Vincenzo Nicastro was appointed to run Piaggio as its extraordinary commissioner, charged with restructuring and selling the business on behalf of the Italian ministry of economic development.
Nicastro's efforts, including the securing of orders from the Italian ministry of defence, have been responsible for returning the business to an even keel. The manufacturer achieving turnover of €154 million ($174 million) in 2021, with an EBITDA that was "substantially at break-even", he says; the backlog now stands at €452 and should rise to €570 million by the end of 2022.
It is the "first time for many years" that Piaggio has achieved profitability, Nicastro says, adding: "To have that level of turnover and EBITDA is a great performance for a company that is in extraordinary administration."
But despite a return to profit, Piaggio is no closer to finding a new owner: negotiations with an exclusive bidder in 2021 were discontinued after it failed to table a concrete offer, forcing Nicastro to restart his effort to sell the business early this year.
Under an accelerated timeline, potential buyers have until 28 February to register their interest, leading to a process that could see a new owner selected by the middle of the year.
However, the economic development ministry must still approve the sale and the Italian government could veto the deal as it considers Piaggio a strategic asset.
While noting that he is unable to offer any guarantees, Nicastro is hopeful that a sale will be concluded this year.
"I cannot assure that we have a new owner, but I'm confident on this; however, I don't have a solution in my pocket," he says.
Nicastro says there has been strong interest in Piaggio, mainly from investment funds – both public and private – alongside a smattering of approaches from industry.
Piaggio's presence at the Singapore air show is designed to showcase both its P180 Avanti Evo twin-turboprop "which has a lot of potential in this region", and to highlight the availability of the company as a whole.
"We hope to have a lot of people interested – not only in the aircraft but in the company also," he says.