Pilot union Air Line Pilots Association, International (ALPA) has complained to the US government about airlines hiring qualified pilots from overseas on specailised visa programmes.
In a 23 June letter to Alejandro Mayorkas, US secretary of Homeland Security, the union says some airlines have "begun to misuse" visa programmes to fill their pilot needs with candidates from Australia. While several airlines have begun recruiting from abroad, the union specifically names ultra low-cost carrier Spirit Airlines as one of the perpertrators.
ALPA maintains there is no pilot shortage, while numerous US airlines have cut schedules due to what they call a dearth of qualified cockpit crew.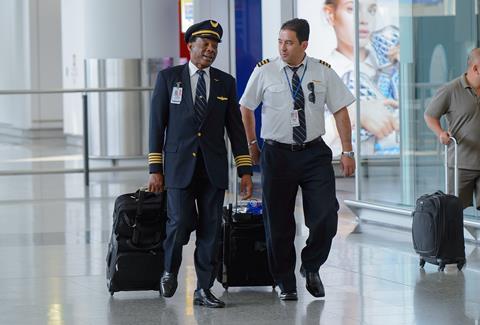 "Prior to the Covid-19 pandemic, some US airlines had begun to misuse US visa programs – particularly E-3 and H-1B 'specialty occupation' visas – to avoid market pressures and artificially maintain pilot pay rates and work rules insufficient to attract qualified US pilots," say Joe DePete, ALPA president, and Ryan Muller, chair of ALPA's Spirit Airlines pilot group.
"Though this activity slowed during the first part of the pandemic, we now have evidence of Spirit Airlines management scheduling recruiting sessions in cities in Australia in July," they add.
Atlas Air, Breeze Airways and regional carriers CommutAir and SkyWest Airlines also are using the E-3 visa programme to close the gap on their pilot recruiting.
Spirit Airlines did not immediately respond to a request for comment.
ALPA maintains that airline pilot positions are not "specialty occupation" roles, and that US carriers are engaging in a "growing trend of scapegoating pilots" because they cannot attract and retain staff.
The union says in the USA there are 1.5 certified pilots available for every airline pilot job, and maintains the pilot shortage is "fictional". Airlines dispute that, citing the same civil airman certificate statistics published by the Federal Aviation Administration every year.
In 2022, airlines plan to hire 13,000 pilots, says pilot consultancy Future and Active Pilot Advisors. But, according to the FAA figures, in 2021 the US regulator issued just 5,020 original air transport pilot (ATP) certificates – the required qualification to get a job as a commercial airline pilot.
Before pilots can take ATP exams, most must show 1,500h of aeronautical experience – a rule proving a bottleneck to increasing pilot supply long-term.
The so-called "1,500-hour rule", introduced more than a decade ago following a fatal airline crash that was attributed in part to pilots' lack of experience, has generated a great deal of controversy in recent months. No other country has a similar aeronautical experience rule.