Blue Bear Systems Research is celebrating a double funding win after securing UK government backing for a pair of projects that could eventually boost sub-regional aviation through the deployment of pilotless, hydrogen- or electric-powered aircraft.
As the leader of Project HEART – or Hydrogen Electric and Automated Regional Transportation – Blue Bear and its consortium partners will demonstrate advanced autonomous controls on a Britten-Norman BN-2 Islander that are sufficiently robust to allow single-pilot operations.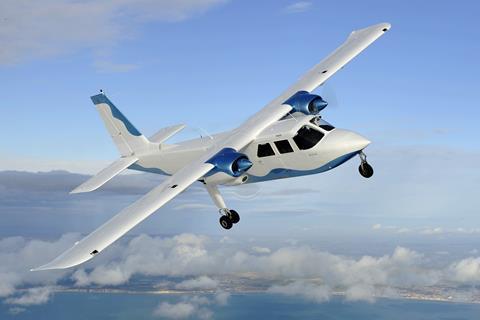 In addition, the practicality of using hydrogen power – including infrastructure and operational issues – for short-range flights will be examined with consortium members including ZeroAvia, Scottish carrier Loganair, and Highlands & Islands Airports, which runs facilities in the north and west of Scotland.
Michael Gadd, head of airworthiness at Blue Bear, says that the project is about finding ways to build a "viable, sustainable aviation business" in parts of the country where "low-capacity" routes are providing an essential service, such as those serving the Highlands and Islands region.
Key to achieving these goals will be "reducing cost and increasing capability", he says.
Although hydrogen power is a core element of the programme, Blue Bear's expertise lies in autonomous controls. However, Gadd points out that the point is not to develop a single technology but an "end-to-end system of systems".
Project HEART's initial phase is due to last 18 months and should culminate in flight tests using the modified Islander. ZeroAvia, which is already receiving UK government funding under a separate project called HyFlyer II, will test its hydrogen propulsion system on a different aircraft type; previous trials have used a Piper Malibu M350.
Should both systems prove viable, there will likely be a need to consolidate them onto a single aircraft for further flight testing.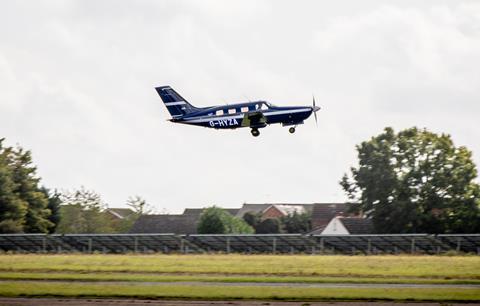 Gadd sees the possibility of service entry in 2025, albeit on a limited basis with "one or two interconnected airfields".
"Clearly as time goes on the ambition would be to expand that outwards to every location there is benefit for," he says.
Gadd is also convinced that the UK's Civil Aviation Authority can be persuaded that single-pilot operations will be safe, describing that belief as "strong enough to think it is achievable".
One of the project's aims is about "setting the principles of what is needed to satisfy the regulator – what that looks like and how it extrapolates."
Gadd says it is too early to say which elements will be added to the Islander's flight-control system, but one vital part of the overall package is a consistent satellite link, in this case provided by consortium partner Inmarsat.
Anthony Spouncer, Inmarsat senior director UAVs and unmanned traffic management, says that with its connectivity in place, in case of emergency it would be possible for a remote pilot to take control of the aircraft and bring it safely to land.
"It's not a case of flying all the aircraft attributes, you just need to be able to perform various emergency procedures."
While there is some delay, or latency, in its system, Spouncer is confident that the connection will be robust; it will also be bolstered by ground-based networks, he adds. "It would not be a single connectivity solution."
Fully autonomous flight, however, may be 10-15 years away, he adds, not least because of consumer attitudes to such operations. "We might not get on board without a pilot, but our kids might."
For its part, Britten-Norman is keen to bring "innovation" to its long-running Islander platform, says business development director Lara Harrison. "What we really need to do is step into that next generation of aircraft."
While a new powertrain is one option, says Harrison – and Britten-Norman is engaged on a separate effort, Project Fresson, to electrify the Islander – the other option was a "move to a more automated platform".
However, the intention is not to create a pilotless aircraft, she says, but to "take the autopilot and push it into the future".
"The technology to have autonomous flights is not far away, but do people really want to get into an aircraft without a pilot? The market is not quite there," she says.
Although the technologies developed by Project HEART will be platform agnostic, Britten-Norman notes that with its aircraft providing the testbed, it will already be some way along the road to certification at the end of the process.
"What we will take from the project is the proving and testing of the technology and the modifications specific to the Islander."
Those modifications would also be retrofitable to the in-service fleet, she says.
Project HEART is receiving £3.74 million ($5.14 million) – split equally between industry and the UK government via its Future Flight Challenge. Additional partners include green hydrogen and fuel cell developer Protium, Fleet on Demand, which provides mobility-as-a-service solutions, architects Williamson+Partners, and the Transport Research Institute at Edinburgh Napier University.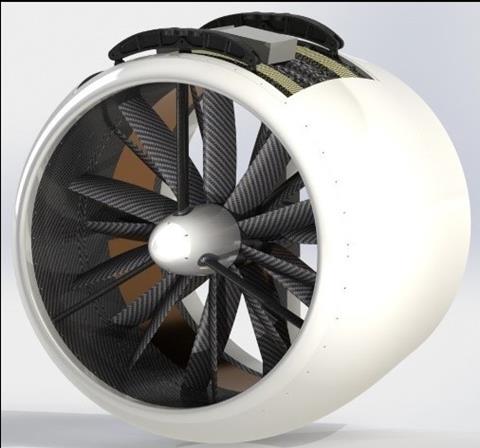 Separately, Blue Bear has also been awarded £2.8 million through the Aerospace Technology Institute, which will be matched by the company and its consortium partners, to develop a new compact electric propulsion module under the InCEPTion project.
A scalable design for smaller aircraft – running from urban air mobility vehicles of 100kg (220lb) and above to sub-regional types with up to 19 seats – "the entire powertrain" is integrated into the module, including the energy storage, power management, thrust generation and energy management, says Anmol Manohar, InCEPTion programme lead.
Benefits will include better power density than individual components, he says; removing batteries and other parts from inside the fuselage will also free up space for passengers or cargo.
While declining to be drawn on the specifics of the system, Manohar says improvements in power density come from "addressing each of those sub-systems and designing them in an integrated manner".
Due to last for two years, flight tests using an existing aircraft type as a testbed are planned at the end of the project in late 2022 or early 2023.
Consortium partners include Dowty Propellers, electrified powertrain specialists Drive System Design, engineering consultancy Ricardo, M&I Materials, the University of Cambridge's Whittle Laboratory and the University of Salford's Acoustics Research Centre.