After 18 months of relative pandemic calm, merger mania appears to be back in aerospace and defence. But not all are happy with what it might mean for key national security assets and jobs.
Recent weeks have seen two big UK names subject to takeover swoops. Defence contractor Ultra Electronics on 16 August accepted a £2.6 billion ($3.6 billion) bid from fellow UK company Cobham, itself controversially acquired by private equity firm Advent International in early 2020 for £4 billion.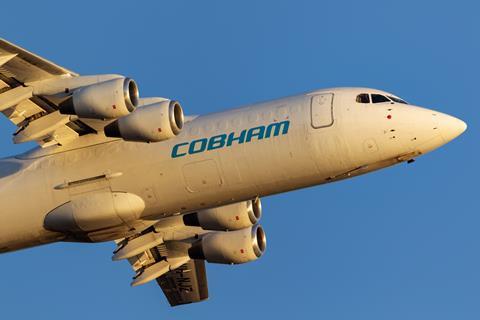 Meanwhile, Parker Hannifin revealed on 2 August plans to snap up fellow top 50 player UK-headquartered Meggitt for £6.3 billion. Meggitt's board accepted the bid only for highly-acquisitive TransDigm to trump its US rival with an unsolicited cash approach worth £7 billion.
Meggitt directors are recommending the Parker Hannifin proposal as "an attractive proposition for shareholders and…broader stakeholders", including the UK government. The UK's takeover panel gave TransDigm a deadline of 14 September to try to persuade shareholders otherwise with a formal offer.
It is possible that the government, which has legal powers to turn down a bid, may have the final say.
The moves by Cobham and TransDigm certainly worry some concerned about the country's sovereign defence capabilities, and commitments to employment and research and development (R&D) investment.
In the 19 months since Advent took one of the UK's oldest aerospace and defence companies private, it has divested around half of it, despite a pledge at the time by partner Shonnel Malani that "We have strong conviction in Cobham's businesses and look forward to delivering on each one's full potential".
The family of late founder Sir Alan Cobham had warned that the private equity owners would break up the diversified company, which was formed in 1934, reckoning that the sum of the parts would be worth more than the business as a whole.
The latest divestment, in June this year, was Cobham Mission Systems to US industrial group Eaton. The division is responsible for what was the UK outfit's most notable product line, its air-to-air refueling technology, made famous during the long-range Falklands conflict of 1982.
A year ago, Bournemouth-based Cobham Aviation Services, which provides pilot training and maintenance services to the UK Ministry of Defence, was sold to US military training specialist Draken International, which has rebranded it Draken Europe.
Cobham has said it will "offer legally binding and enforceable commitments" to the UK government over its acquisition of Ultra, including on security issues, jobs, and R&D. Ultra's portfolio includes precision controls and cockpit equipment for commercial and military aircraft.
UK Secretary of State for Business Kwasi Kwarteng on 19 August became involved in the takeover, issuing a public interest intervention notice. He will make the final decision on the deal, and could rule it out on national security grounds.
TransDigm, meanwhile, has expanded from a $300 million-revenue company to over $5 billion in 20 years, as a result of an acquisition spree of some 50 businesses. It regularly tops the operating margin table in FlightGlobal's annual Top 100, fulfilling its pledge to stockholders to deliver private equity-like returns, but raising eyebrows among some about its commitment to long-term investment.
Richard Aboulafia, an aerospace analyst with Teal Group, says the merger activity, including Parker Hannifin's bid for Meggitt, shows that some aerospace concerns remain flush with cash.
"The industry continues to favour the logic of critical mass," he says. "It just goes to show that even in the midst of one of the worst industry downturns, there's a lot of cash out there waiting to help the industrial base get through a challenging time."
Meggitt, which has around 9,000 employees, mainly in the UK and USA, produces a range of aircraft components for commercial, military and business aircraft, with around 70% of its output sole-source. Its latest revenues were $1.7 billion.
Parker is a nearly $14 billion company – its aerospace systems unit turned over $2.5 billion in the latest financial year.
Aerospace consultant Michel Merluzeau, of AIR, suggests a combined Parker and Meggitt would be highly competitive in an industry already dominated by consolidated entities. "The synergies are quite strong," he says. "It's a really strong portfolio. It makes sense."