A UK government-backed consortium seeking to develop technologies that could revolutionise sub-regional aviation could begin tests of a highly automated, retrofitable flight-control system as early as next July.
Led by specialist autonomous system integrators Blue Bear Systems Research, Project Heart – or Hydrogen Electric and Automated Regional Transportation – was in July awarded a £10 million ($11.5 million) grant under phase 3 of the UK's Future Flight Challenge (FFC) initiative.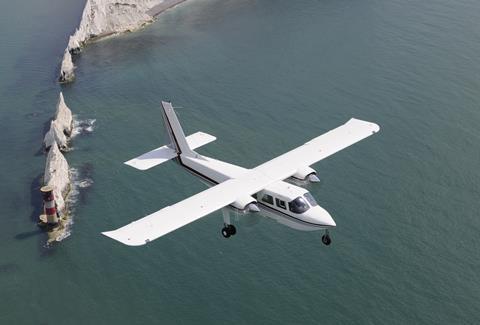 This newly allocated funding will allow the 14-company consortium, which also includes Britten-Norman, Highlands & Islands airports (HIAL), Loganair, and ZeroAvia – to build on work carried out under the FFC's phase 2, which officially ended on 31 August.
Heart is attempting to address three core pillars – aircraft automation, innovative powertrains and fuel, and the accessibility of transport – to bring down the cost and environmental impact of sub-regional aviation, while also increasing the frequency and availability of services, says programme manager James Owen.
Solving these issues has the potential to boost connectivity for otherwise isolated communities such as the Scottish Highlands and Islands, he says.
During phase 2, those pillars have been addressed individually, and the goal of the phase 3 project is to bring all the elements together, culminating in "a multi-platform, multi-leg demonstration" of a "hydrogen-electric, automated sub-regional transport aircraft" in the north of Scotland, says Owen.
In addition to the hardware, the trials will also evaluate all the supporting infrastructure – such as fueling and green hydrogen generation, or booking and operational changes – required for such flights.
"We will be trying to take each of these pillars further in phase 3 and integrate them with one another," says Owen. He points to the "huge sweep of extra items" included within the latest phase, in order to "make it as comprehensive a demonstration of how we would run a network as humanly possible".
Although ZeroAvia is maturing its hydrogen fuel cell powertrain under the Aerospace Technology Institute's HyFlyer II programme, a separate UK-funded initiative, the Dornier 228 it is retrofitting with the new propulsion system will nonetheless feature prominently in Project Heart.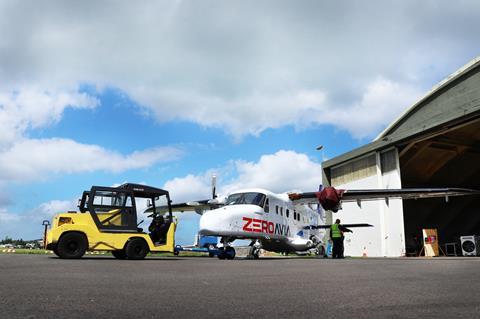 Here, the consortium will equip it with an autonomous control system developed by Blue Bear, which will actively fly the aircraft, allowing a "governing pilot" to "supervise" the mission. This should sufficiently increase flight safety and reliability to permit single-pilot operations with more than nine passengers aboard, says Owen.
Should regulators sanction such a rule change, the per-flight cost for sub-regional operators would decline, potentially lowering fares. Equally, airlines could look to increase the frequency of flights without the need for additional pilots.
Early work to integrate the system on ZeroAvia's Do 228 – which has yet to fly – could commence shortly, says Owen; talks with the propulsion system developer are continuing in order to establish a schedule, he adds.
Phase 2 saw the integration of a suite of avionics onto a Britten-Norman BN2 Islander that "listens to the aircraft and report back to the pilot", via a bespoke digital cockpit display, reflecting the operation of the autonomy system and the monitoring of the aircraft's performance.
This phase 2 work brings the high levels of automation and sophisticated sensors found on a modern commercial airliner to much smaller aircraft types. Flight tests of the system from Britten-Norman's Leigh-on-Solent facility on the south coast of England concluded in mid-August.
Those trials, designed to ensure the equipment is "listening to the aircraft and correctly characterising its flight condition", went "very well", says Owen, yielding "lots of data" from the "great flights over the Isle of Wight and a little bit beyond".
Phase 3 work will build on this stage to deliver more sophisticated automation that reads across to much larger transport and cargo aircraft. But the move to active control under phase 3 is not the only change: Owen stresses that the system being developed will offer "configurable autonomy" – essentially "an automation system that in future can equip any aircraft".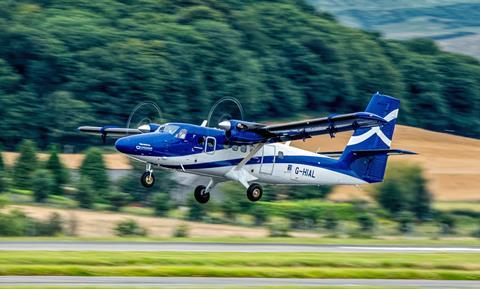 Although flight trials of the system will only be conducted using two aircraft types, Project Heart will also run simulator tests using other sub-regional transport aircraft, he says.
Britten-Norman is not providing a hydrogen-powered aircraft for the project – that role is fulfilled by ZeroAvia – but Owen insists the potential performance gains for such a type from the autonomous control system alone are still significant.
"There are still a huge number of conventionally powered island-hopping aircraft out there and [autonomy] can still make a huge difference to how they are operated."
Phase 3 of Project Heart is a two-year programme and Owen is hopeful that early flight testing of the autonomous system can commence from July 2023, leading to "more fundamental flights" in the following quarters.
"Once we get our avionics suite into an aircraft and everything works we can move ahead quite quickly," he says.
Owen sees the potential for 2025 service entry of the configurable autonomy system – whether entirely platform agnostic or tailored to a particular aircraft type. However, the steps required to bring it to certification will mature as the project progresses, he notes.
As well as an increase in scope, the move from phase 2 to 3 has seen the size of the Project Heart consortium swell. It now numbers 14 partner companies, up from 10 previously, having added encryption specialist Arqit, software firm Geneo, infrastructure consultancy Mott MacDonald, Saab Technology UK, and control systems firm RDM Group. Original partner Inmarsat has dropped out, but remains allied to the project, supplying its Satcom connectivity.
Project Heart recently held its first public engagement event at Inverness airport to outline the achievements under phase 2, and highlight the plans for the subsequent phase.

Dominic Perry is deputy editor of Flight International but also contributes extensively to flightglobal.com. Although specialising in the coverage of the helicopter industry, he has written on most topics in aerospace – be they commercial, defence or business aviation. In addition, there has been an increasing focus on the decarbonisation of the industry and zero-emission flight initiatives.