US propulsion developer Universal Hydrogen has named long-time Nikola executive Anastasiya Pasterick as chief financial officer, effective on 4 December.
The Southern California start-up said on 20 November that Pasterick will lead "all aspects" of "financial planning and strategy, capital raising, investor relations, financial reporting, treasury and compliance".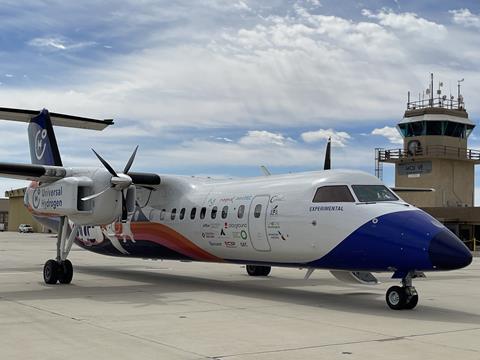 Battery-electric vehicle maker Nikola disclosed Pasterick's departure in a filing with the US Securities and Exchange Commission, adding that she would stay on through 1 December to assist with the transition.
Pasterick worked for as Nikola's chief financial officer for less than a year. Previously, she held the roles of chief accounting officer and corporate controller.
She leaves during another turbulent time for the long-troubled company. Nikoka's founder Trevor Milton was convicted of fraud in October 2022 for deceiving investors about the company's electric- and hydrogen-powered 18-wheel trucks. Evidence suggested the company produced videos that hid flaws with its vehicles.
In August, former chief executive Michael Lohscheller stepped down and Nikola issued a recall of its battery-electric trucks in response to a pair of incidents that included a battery coolant leak causing one of its trucks to catch fire.
"As a result, our team has decided to replace the Romeo packs on existing customer battery-electric trucks with an alternative solution," Nikola said earlier this month.
During her time at Nikola, Pasterick played a critical role in the company's public listing in 2020 and was responsible for establishing "an accounting and reporting infrastructure as a newly-listed company", Universal says. "She was instrumental in scaling the organization's financial operations through entry into commercial production and raised significant capital, while maintaining strong fiscal discipline."
Universal plans to retrofit existing fleets of turboprop aircraft with hydrogen propulsion systems, recently launching a two-year flight-test programme with its modified De Havilland Canada Dash 8-300 in the desert of Southern California.
"It is an honour to join Universal Hydrogen, an exciting, mission-driven, high-potential organization," Pasterick says. "I'll be hitting the ground running, moving forward to refine and execute on the company's business model, scaling rapidly while consistently driving smart capital allocation and maintaining strong financial discipline."
She adds that Universal's ultimate goal is to create a "highly profitable business at global scale".
Universal's chief executive Paul Eremenko says Pasterick brings "public company experience, fundraising prowess, deep knowledge of the nascent hydrogen sector and a pragmatic, clear-headed and growth-oriented leadership mindset just as Universal Hydrogen embarks on a growth trajectory".
The start-up said in September that it was a step closer to establishing a certification basis for retrofitting ATR 72 regional turboprops with its fuel cell technology.