Zero Petroleum and the UK Royal Air Force (RAF) have claimed a world record for a first aircraft flight conducted using 100% synthetic fuel.
Involving an Ikarus C42 ultra-light aircraft, the 21min flight was conducted from Cotswold Airport in Kemble, Gloucestershire on 2 November. It was flown by Group Captain Peter Hackett, the RAF's head flight test pilot.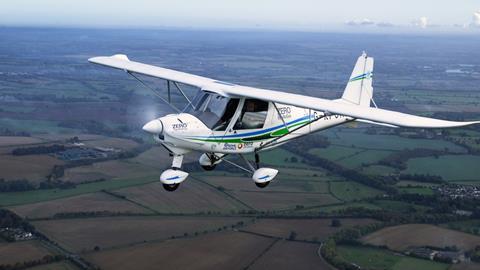 Recognised as a Guinness World Record for the "first aircraft powered by synthetic fuel", the milestone stems from an initiative named Project Martin, launched with the RAF in June 2021.
The Zero SynAvGas fuel for the flight was produced in Billia Croo, Orkney, by Zero Petroleum and IGTL Technology, via an adaptation of the Fischer-Tropsch process. This involves extracting hydrogen from water by using energy generated from renewable sources, before combining it with carbon dioxide captured from the atmosphere.
Zero Petroleum says this process can provide a "drop-in" alternative fuel, "without the need to adapt distribution infrastructure or engine design". Such a solution is "crucial for sectors in which electrification is not currently an option, including aviation, agriculture and a wide range of high-performance vehicles", it adds.
"We are particularly proud of the fact that this high-grade aviation gasoline was developed in just five months and ran successfully in the aircraft as a whole-blend without any modification whatsoever to the aircraft or the engine," says Zero Petroleum founder Paddy Lowe. "Engine manufacturer Rotax's measurements and the test pilot's observations showed no difference in power or general performance compared to standard fossil fuel."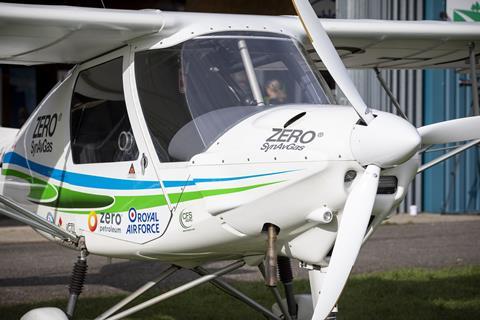 Lowe adds: "I believe we have together made a significant mark in the history of powered aviation."
"Climate change is a transnational challenge which threatens global resilience and our shared security and prosperity," says chief of the air staff Air Chief Marshal Sir Mike Wigston. "I am determined to tackle this head-on and have set the Royal Air Force the ambitious goal to be net-zero by 2040.
"The way we power our aircraft will be a big part of achieving that goal," Wigston adds.
The RAF earlier this year outlined a broad range of initiatives which are intended to reduce the environmental impact of its operations. These vary from potentially seeking an electric-powered replacement for its current elementary trainer fleet to investing in sustainable aviation fuel technologies.