The timing of the merger that created Raytheon Technologies seems about perfect for the company formerly known as United Technologies (UTC), which had been heavily reliant on the now-slumping commercial aerospace industry.
But that business now sits alongside the mighty defence portfolio of the company formerly known as Raytheon. Analysts says the merger, coming at time of almost unthinkable contraction of commercial aviation, highlights the rationale for such diversification.
The merger closed on 3 April, creating a company comparable in heft to Boeing.
Raytheon Technologies is based in Raytheon's old hometown of Waltham, Massachusetts. Former UTC chief executive Greg Hayes is the combined company's CEO, while former Raytheon CEO Thomas Kennedy is the executive chair.
The deal brought together Raytheon with the aerospace assets of UTC, which include Collins Aerospace and Pratt & Whitney.
"In a way, it's great for United Technologies," says Sheila Kahyaoglu, aerospace and defence analyst at financial services company Jefferies.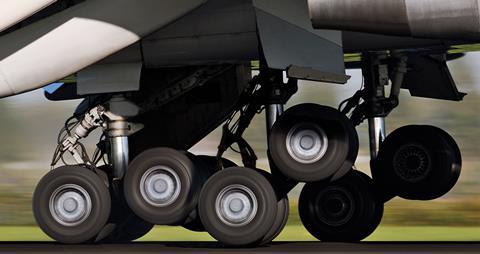 The defence business helps "shield" the combined company's commercial aerospace business, she says. Also, as part of the merger, UTC had spun off air conditioning company Carrier and elevator company Otis. Those assets had exposed UTC to the construction market, another segment expected to be impacted by the coronavirus downturn, she adds.
"The timing is great for UTC and terrible for Raytheon," says Teal Group aerospace analyst Richard Aboulafia. "But a year ago any consultant or observer would have advised Raytheon to seek commercial work for long-term growth."
Aboulafia notes that every few years the aerospace "industry remembers that having a balanced portfolio for counter-cyclicality is a good thing". Counter-cyclical industries are those tending to perform well during broad economic downturns, like the defence sector.
"This time, of course, commercial folks are reminded about why military work is so useful," Aboulafia says.
Raytheon and UTC in 2019 announced their intention to combine, citing portfolios with little overlap and projecting $1 billion in annual synergies within four years.
On 3 April, CEO Hayes downplayed suggestions that the current market slump made now a bad time to combine. "I can't think of a better time to be coming together with Raytheon," he said.
Also on 3 April, in an interview with Bloomberg, Hayes said the merger's underlying benefits of creating a unified defence and commercial aerospace "powerhouse" remain as compelling as ever.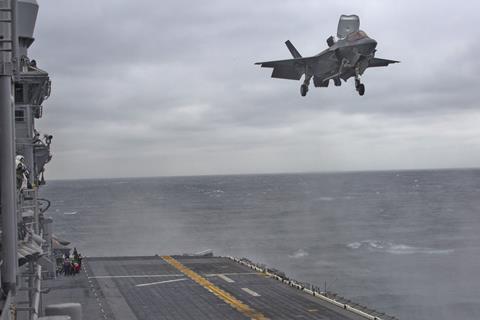 Based on 2019 financials, the combined company's revenue is about $74 billion, with revenue split about 38% from defence and 62% from commercial.
Hayes predicts commercial aerospace will not return to normal soon. Airlines worldwide have grounded thousands of aircraft amid a collapse in air travel demand.
"It will come back… probably not quickly," Hayes says. "You are not going to see a recovery in air traffic until people feel safe to fly…. It's probably not this year."
But thanks to Raytheon Technologies' military heft, Hayes doubts his company will seek government funds made available via an aid package signed last week by President Donald Trump.
"The defense side of the business is strong… We will power through this," he told Bloomberg. "I've told my team to plan for a two-year tough spell."
Ronald Epstein, managing director of aerospace and defence at Bank of America Merrill Lynch, believes the underlying rationale for the merger remains.
"Having more heft as a systems supplier could benefit both sides" of Raytheon Technologies, says Epstein, citing particularly strong opportunity for aerospace "technology synergies".
He notes that in recent years Boeing and Airbus were increasingly squeezing cost concessions from suppliers like UTC, while Raytheon found itself competing against companies like Northrop Grumman and Lockheed Martin, which themselves had grown much larger.
"As a pure aerospace play, the timing was fortuitous," Epstein says of the merger. "That wasn't the specific plan."