China's rapid recovery in domestic air travel — after a battering by the coronavirus pandemic —will be difficult to replicate in other countries and regions, but can set the tone for a wider, global recovery.
Chief executive officer and general manager of Chinese MRO GAMECO Norbert Marx says the key to recovery hinges on two factors: the ability to keep the pandemic under control, as well as access to a large market region, which will most likely be domestic.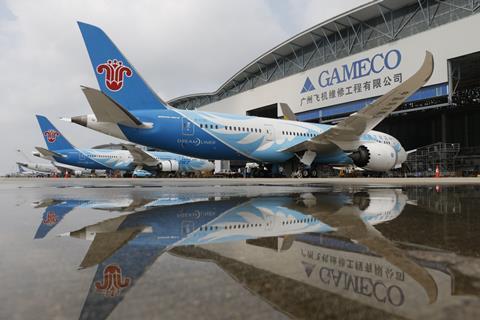 Marx was speaking at the MRO Asia-Pacific virtual conference, where he gave a keynote address on the MRO industry in China.
Explaining why it was difficult for China's recovery pattern to be replicated elsewhere, Marx says most regions with large market access, like the USA and India, "do not have sufficient control over the pandemic".
On the other hand, some regions with effective control of the coronavirus pandemic, like Singapore, do not have a domestic market to rely on for recovery.
"My expectation is that, full recovery is only likely after sufficient immunity really has been established," says Marx. He also notes that recovery in other regions will happen eventually, "but on a lower level compared to China", given that "no one has the size of the market…in terms of size of country, number of people and control [of the pandemic]".
"The recovery in China is an important bridge in an uncertain time…to make the recovery for the global industry much easier," he adds.
China's rapid recovery in domestic air travel has given GAMECO's business a much-needed fillip, says Marx. He notes that the company is "working at around 80 to 90% [capacity] on average" now, with the bulk of business coming from domestic air travel.
"It would have been a completely different mode if this positive recovery [did not] happen," Marx adds.
In June, Marx told FlightGlobal that a real recovery was dependent on "a lot of factors that are beyond our control", even while China's domestic market was beginning to show signs of recovery.
Since then, three of China's largest carriers — China Southern, Air China and China Eastern Airlines — have witnessed steady increases in domestic passenger traffic.
Still, Marx reckons the Chinese MRO industry will end the year on a "negative gap" compared to 2019, due mainly to depressed travel demand from international markets.
The Guangzhou-based MRO's year-to-date overall net sales is 23% below budget, and is expected to be 20% below budget by the end of the year.
Line maintenance has seen the sharpest fall in takings, with year-to-date sales 30% lower than anticipated. International travel restrictions have crimped travel demand, leading to many foreign airline customers suspending flights to and from the country.
Parent company China Southern Airlines too has had to suspend most of its international network, which led to a reduction in line maintenance business, says Marx.
Heavy maintenance saw a relatively slower decline, with sales year-to-date about 10% lower than forecast. Marx says that while international carrier business has fallen, because of cost-cutting and difficulty getting into China, it has been able to bring forward heavy maintenance slots from China Southern.
GAMECO also sought out other domestic operators for heavy maintenance contracts during the period, allowing it to offset some of the decline in business.