Rolls-Royce will next month transfer the electric-powered aircraft it is developing under its ACCEL project to Boscombe Down airfield in Wiltshire as it prepares for an attempt on the speed record for an electric aircraft in the first half of 2021.
To date, R-R has performed taxi tests of the modified Sharp Nemesis NXT at Gloucestershire airport, around 52 miles (85km) northwest of Boscombe Down.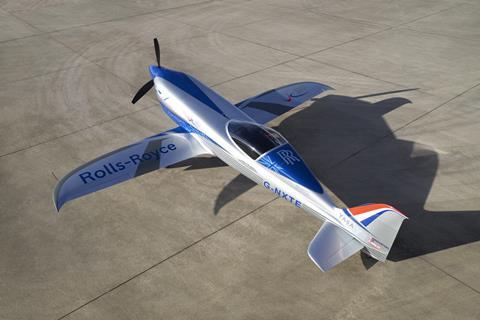 But speaking during a Royal Aeronautical Society lecture on 29 March, programme manager Matheu Parr said the ACCEL aircraft – named Spirit of Innovation – will be moved to its new home in April, with a first flight scheduled for May and an attempt on the current 210mph (337km/h) record before the end of June.
"It is still fundamentally an innovation project so we still have bits and pieces we want to make right before we move to Boscombe," he says.
That facility – run by Qinetiq on behalf of the Ministry of Defence – was selected due to its long, wide runway, the ability to close it to other traffic, and relatively quiet airspace.
"But it is also the home of UK experimental test flights. It is a while since it has had that role but it is just a fantastic location to do the flight from," says Parr.
R-R has modified the stock Nemesis NXT airframe, replacing the internal combustion engine with three independent motors YASA motors and a 400kW, 6,000 cell battery pack from Electroflight.
Under normal conditions the batteries would offer an endurance of 180min, but faced with the power requirements of the record attempt, that will fall to about 8-10min, says Parr.
R-R's target is to achieve a speed of over 300mph (260kt/482km/h); a combustion-engined Nemesis NXT is capable of around 400mph.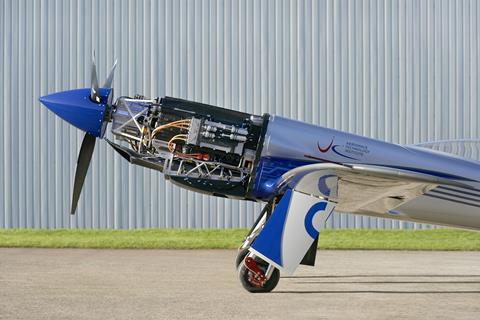 In addition to the short flight time, the power-intensive cycles flown by the Spirit of Innovation will over time degrade the batteries, says Parr, losing around 0.2% of their "state of charge" during each high-speed flight.
That effectively cuts the battery pack's longevity to around 300 flights, he says. "Over the record attempt and work up this aircraft will probably fly around 50 times in total, so we are well within our safety margin.
"But what it does drive us to do, of course, is try and get to that record attempt as fast as possible. We can't spend 100 hours slowly opening the envelope."
While the envelope expansion work will still be performed in a "careful and mindful way", it will done as quickly as possible. "Otherwise we are leaving speed on the table," Parr adds. "The longer we take to get there the more the battery degrades."
Phil O'Dell, R-R's head of flight operations, will be at the controls for the first flight and the record attempt. He says the taxi tests – the first time the aircraft moved under its own power – was "one of the most exciting and memorable flights I have had".
O'Dell – who has shed 10kg (22lb) for the record attempt - has been familiarising himself with the flight profile for the record attempt using a variety of aerobatic aircraft including a Mudry CAP 10 and Extra Aircraft EA-330, and will subsequently move onto R-R's Supermarine Spitfire Mk19.
However, none of that will properly prepare him for the chronic lack of visibility inherent to the Nemesis NXT, which the team is attempting to overcome with the use of an external camera for taxiing.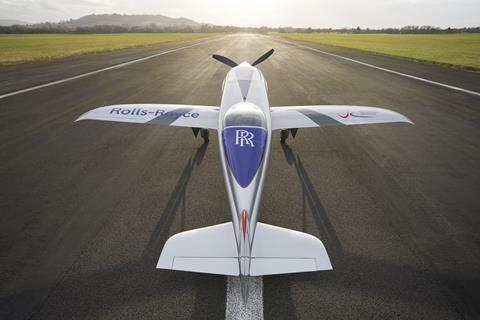 He says the record attempt – which takes an average speed from four passes of a 3km-long course – will be performed at an altitude of around 1,000ft. However, he notes that terrain around Boscombe Down "rises in certain places" which requires consideration.
The first three flights of the ACCEL aircraft will be performed with a chase aircraft, but R-R is hopeful that this can be dispensed with for subsequent sorties.
Parr says the entire effort, which began in 2018, has not been without difficulties. "As we have gone through this programme we have broken everything pretty much at least once," he says, including the motors, batteries and inverter.
However, the loss of components pales into comparison with the toll taken on project staff. "The greatest challenge and success is people picking themselves up after those failures because in some cases we have lost months because of something we have learned and have to correct.
"Keeping going and keeping pushing to get the record has been one of the greatest challenges and achievements of the team."
Although the Aerospace Technology Institute-backed project is focused on breaking the speed record, Parr says it also plays a vital role in advancing R-R's understanding of electric power for aviation and how it "pivots from breaking a record to a [commercial] product".