UK propulsion specialist Rolls-Royce was in a position to acquire up to 50% of Electroflight – one of its partners in the record-breaking ACCEL project – with that interest subsequently highlighted by the battery provider's administrator as a barrier to badly needed outside investment.
Ultimately, Electroflight was unable to source further funding in the time available, triggering its insolvency and sale via a pre-pack administration process.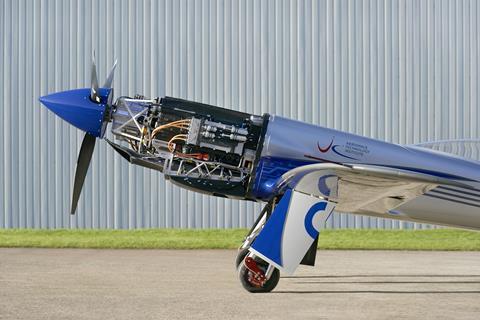 Electroflight was part of a consortium of companies, including Yasa Motors, involved in the R-R-led ACCEL effort, which saw the conversion of a Sharp Nemesis NXT to run on electrical power. Last November the modified racing aircraft, dubbed Spirit of Innovation, broke several speed records.
Battery packs for the conversion were supplied by Electroflight, and the conversion work was undertaken at its Gloucestershire airport facility in Staverton.
However, the company was acquired in a pre-pack deal by Evolito – an aviation spin-out of Yasa Motors – on 4 July for a total of £150,000 ($173,000), UK Companies House documents show, saving the majority of jobs.
But the statement of administrator's proposals, filed by insolvency firm Milsted Langdon on 21 July, shows that R-R's interest in Electroflight ran deeper than simply being a partner in ACCEL.
As the leader of ACCEL, "R-R ran the research and development programme and provided leverage funding and recruitment to the project", it says.
"In return the company [Electroflight] issued share warrants enforceable to 31 December in the year following the project's completion."
As the ACCEL effort concluded in 2021, R-R had until 31 December this year to exercise the warrants, which gave it the rights to acquire 50% of Electroflight, the administrator notes.
However, Electroflight was struggling financially. Despite its technical strength and a "small number" of live programmes – including a 2020 contract with Germany's Volocopter to deliver a 400kWh battery system – alongside a "strong pipeline" of potential contracts from "high-quality customers", the company had "struggled to compete with its competitors on price due to its need to use customer money to fund the development[s].
"Whilst the company's skills and expertise generated significant interest, converting this into paying work was challenging. Where the company did win tenders it was at the mercy of the customer's approval and development timeframe as to when the work would commence," the report says.
Although the company had attempted to secure additional external investment in the 18 months prior to the administration, it "felt it was prevented from doing so by R-R holding the share warrants for a 50% shareholding in the business which it could exercise at its sole discretion", says the administrator's statement.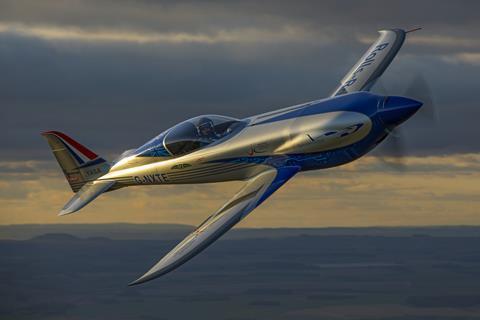 R-R had "previously indicated that it would exercise the warrants as early as 2020", the report says, "but this did not occur, making it harder for [Electroflight] to seek investment and leaving the company in a challenging financial position".
Faced with increasing pressure from the company in light of the urgency of the situation, R-R surrendered the warrants in May 2022. "However, this delay left [Electroflight] with a cashflow problem and it sought urgent investment or an acquisition in the short period it had until it exhausted its working capital," the document says.
But no investment was realised in the tight timeframe available, leading Electroflight's directors to instead pursue a sale via a pre-pack administration.
In the run-up to the administration Milsted Langdon sought offers for the Electroflight, with a total of four bids received. However, only one buyer – Evolito Battery Systems – was able to table a best and final offer by the 24 June deadline.
Although Evolito's offer was below Milsted Langdon's valuation for the business, it considered "we were confident we were not going to achieve a better in-situ price" and the alternative of a "forced sale" would have resulted in a lower return.
R-R declines to detail the specifics of the funding provided to Electroflight, or its handling of the warrants.
There is no requirement for the administrators of a company to contact third parties prior to publishing their statements, but R-R says that had it been approached, it would have provided its own understanding of the events that led to Electroflight entering into administration.
It says the collaboration with Electroflight and Yasa/Evolito to deliver the world speed record was "an incredible technical achievement" that provided all the companies with "important data and capabilities in powering all-electric flight".
However, it adds: "Success in the aerospace industry continues to have high barriers to entry with long-term investment cycles to bring commercially viable solutions through to market; this can be a challenging environment for a business to balance its revenue with its cost base.
"In such a challenging market, Rolls-Royce took extraordinary steps to support Electroflight's business and its process of seeking further investment. Ultimately Electroflight has found the right partner to continue its business in Evolito, and we look forward to all parties taking roles in enabling net-zero aviation."

Dominic Perry is deputy editor of Flight International but also contributes extensively to flightglobal.com. Although specialising in the coverage of the helicopter industry, he has written on most topics in aerospace – be they commercial, defence or business aviation. In addition, there has been an increasing focus on the decarbonisation of the industry and zero-emission flight initiatives.