Rolls-Royce hopes that its Spirit of Innovation has claimed three world speed records for an electric aircraft following several runs conducted on 16 November.
Data from the record attempts has been submitted to the Federation Aeronautique Internationale for ratification.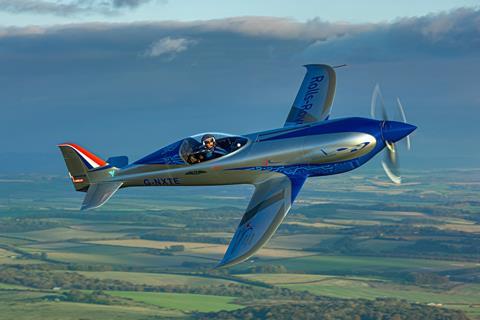 Carried out at Boscombe Down airfield in the UK, R-R says Spirit of Innovation – a modified Sharp Nemesis NXT – reached a top speed of 555km/h (300kt) over a distance of 3km (1.6nm), beating the existing record, which dates from 2017, by 213km/h.
In subsequent runs, R-R's data shows the battery-powered aircfraft achieved 532km/h over 15km – 292km/h faster than the previous record – and broke the fastest time to climb to 3,000m (9,840ft) by 1min, in a time of 3min 22s.
Maximum speed during the runs was recorded as 623km/h – R-R claims this makes the aircraft the world's fastest all-electric vehicle.
Part funded by the UK government through the Aerospace Technology Institute, the record bid was the goal of a R-R-led programme called ACCEL – Accelerating the Electrification of Flight.
Key partners in developing the 400kW powertrain included energy storage specialist Electroflight and YASA, which provided the three electric motors for the conversion.
Phill O'Dell, test pilot and R-R director of flight operations, says: "Flying the Spirit of Innovation at these incredible speeds and believing we have broken the world-record for all-electric flight is a momentous occasion.
"This is the highlight of my career and is an incredible achievement for the whole team."