In south west Singapore, near the border with Malaysia, a major construction project is attracting serious interest across the aviation industry.
The Finnish energy company Neste is almost doubling the capacity of its renewable diesel facility to start producing sustainable aviation fuel (SAF), a scarce but vital commodity as airlines globally scramble to cut their carbon emissions.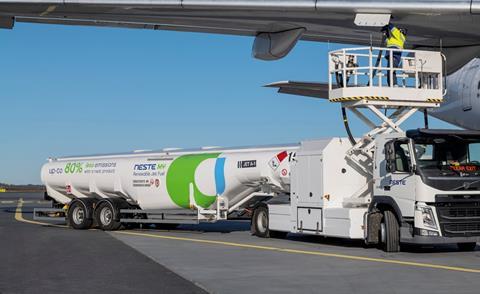 Neste is the world's largest single producer not only of fuels from waste products, but also of SAF, with 100,000 tonnes per year flowing from its facility at Porvoo, near Helsinki - about half of the current global supply.
By the end of Q1 2023, Neste's Singapore plant will produce up to 1 million tonnes of SAF per year.
Additionally, modification of its Rotterdam waste-to-diesel facility will provide capacity to produce another 500,000 tonnes of SAF by year's end, while a newly-announced expansion will further boost Rotterdam's output to 1.2 million tonnes from 2026 – a total of 2.2 million tonnes from both plants, 22 times Neste's current output.
These SAF projects, while currently the biggest, are not the only ones. Other commitments and studies have been announced by a range of global consortia, proposing new fuels from waste fats, oils, greases and crops, from agricultural, municipal, and medical waste, and, increasingly, from CO2 emissions captured and converted to liquid fuels.
Airlines, too, continue to up their SAF commitments, not just in response to customer pressure for climate action, but also to satisfy investor demands, and, initially in Europe, blending mandates through which regulators artificially boost demand by obliging fuel marketers to provide airlines with supplies infused with gradually-rising portions of SAF.
The aim is to provide market certainty to encourage production, boost distribution, and drive down SAF prices, currently at least triple those of conventional jet fuel, a major deterrent for airlines at any time, let alone as they try to climb back from their industry's biggest crisis.
But there's still a problem.
Beyond Neste's imminent increases, much of the new SAF won't be available before, at earliest, 2025. And that's not nearly enough to meet projected demand.
"We have invested in the production capacity ahead of the regulatory requirements," says Sami Jauhiainen, Neste's Singapore-based vice-president, Asia-Pacific. "The key trigger to deliver these kinds of investments comes back to the regulators. They need to create market certainty by further incentivising production and use."
Willie Walsh, director general of IATA, says airlines had committed $17 billion in forward SAF purchase agreements, driving a big increase in production.
"Irrespective of price, airlines have used every drop of SAF that was available in 2021. And it will be the same for this year. We'd buy more if we could.
"By 2025," he says, "there could be 5 billion litres of SAF produced annually – 40 times what was available last year."
Governments should incentivise SAF production, he adds, just as many have with solar and wind power, to drive down costs and drive up usage.
"With a similar approach, we could see 30 billion litres of SAF by 2030," he predicts. "That will still be far from where we need to be. But it would be a clear tipping point towards our net zero ambition of ample SAF quantities at affordable prices."
All eyes will now be on ICAO's upcoming 41st Assembly, which is preparing to promulgate a long-term aspirational goal to limit aviation emissions.