Safran Electrical & Power (SEP) is to collaborate with French start-up Aura Aero on two electric aircraft projects – including a 19-seat sub-regional hybrid design that could enter service in 2027.
SEP sees "huge demand" for zero-emission aircraft in the segment as operators and customers alike clamour for cleaner and more efficient products.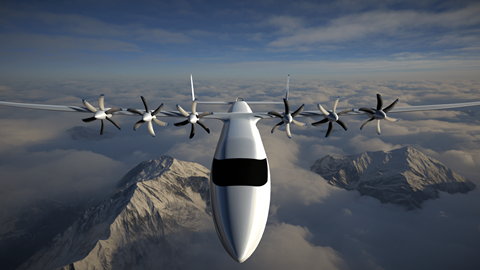 Under the agreements, revealed on 7 April, SEP will first supply the propulsion and electrical distribution systems for Toulouse Francazal-based Aura's Integral E flight demonstrator, which is expected to fly later this year.
An electric version of the manufacturer's two-seat Integral aerobatic/trainer model – currently awaiting European certification – the Integral E will use a SEP ENGINeUS 100 motor, capable of delivering around 100kW, coupled with a GENeUSGRID distribution and protection system. SEP is not supplying the energy storage system, however.
Service entry for the Integral E is anticipated in 2023, with certification of the ENGINeUS 100 also expected at the "beginning of next year", says Herve Blanc, chief executive of SEP.
"It is really good for us to have this product ready now the market is growing and on top of the motor itself we can also offer the distribution and protection system," he says.
Detailed in a separate memorandum of understanding, SEP and Aura will also work together to define the propulsive and non-propulsive electrical architecture for the airframer's 19-seat Electric Regional Aircraft (ERA).
Envisaged as a hybrid-electric design which uses a distributed propulsion system, the aircraft is tentatively scheduled to fly in 2024.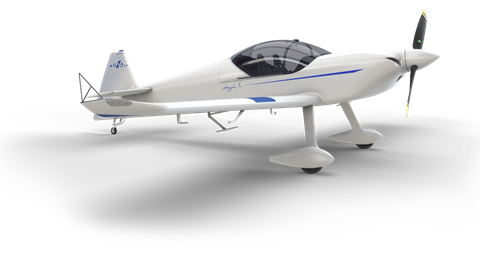 Blanc says the studies, which are set to conclude this year, will include considerations such as the number and size of the electric motors, the energy storage system, and whether to use a turbogenerator or fuel cell system to provide the electrical power.
At present, the agreement covers only the study work, however, potentially opening the door to a rival supplier for the production phase of the programme. "We are working together in full confidence but Aura will decide at the end of the process if they want to work with us or somebody else," says Blanc.
"The optimisation of the system we can bring together puts us in a very good position for the future, but it is not done until it is signed."
A full propulsion system could be sourced from Safran's various divisions, notes Blanc, with a hybrid powertrain potentially including a turboshaft engine sourced from Safran Helicopter Engines, such as the 1,300hp Arrano or 2,500hp Aneto, or fuel cells from Safran Power Units.
Aura's specification for the ERA calls for an aircraft with a maximum take-off weight of 8.1t that can carry 19 passengers up to 1,000nm (1,852km), or 215nm when operating solely on its batteries.
SEP's involvement with the ERA development is the fourth such sub-regional or commuter aircraft project for the unit, including Bye Aerospace's eight-seat Flyer 800 and two undisclosed programmes.
Blanc sees this trend only accelerating. "The operators are ready to make some concessions and accept smaller range or capability because they really, really expect to get greener aircraft as quickly as possible," he says. "Clearly we see there is huge demand."
That will be initially for smaller full-electric aircraft with two to four seats, moving to larger electric or hybrid designs which will carry up to nine passengers, and then eventually 19-seaters. "We see more and more opportunities like this one," Blanc says.
Meanwhile, SEP continues to work on other projects, including the EcoPulse programme alongside Airbus and Daher, and the CFM International RISE engine demonstrator, which will feature embedded motor-generators to help optimise efficiency.