Safran has signed a series of contracts with MRO providers ST Engineering and Lufthansa Technik, covering CFM International engine and nacelle maintenance work.
With ST Engineering, Safran Aircraft Engines – one of CFM's parent companies – signed a three-year agreement, covering offload maintenance for the CFM Leap-1A engines, which power the Airbus A320neo family aircraft.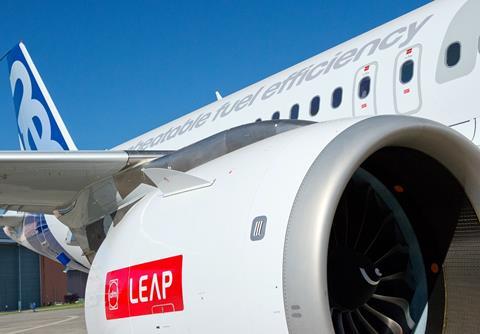 The agreement is on top of an existing partnership for CFM's other narrowbody engines, including the CFM56-5B/7B, as well as the Leap-1B turbofans. It also comes a month after ST Engineering became Asia's first MRO provider to join the global Leap engine MRO network under CFM's Branded Service Agreement.
Says ST Engineering's general manager of engine services Tay Eng Guan: "As air travel continues to recover strongly, we look forward to partnering Safran Aircraft Engines even more closely to meet the forecasted rise of CFM engine MRO activities, and better support CFM operators as they ramp up their flight operations."
Separately, Safran's nacelles unit has signed a multi-year licence agreement with Lufthansa Technik for the maintenance of Leap-1A nacelles.
The announcement comes as Lufthansa Technik joins Safran Nacelles' MRO network, allowing it to carry out warranty tasks, repairs and modifications guaranteed by the nacelles company.
"A320neo operators will benefit from Safran Nacelles and Lufthansa Technik's extensive repair experience and are assured to find a station nearby so that repair time can be shortened and the cost of logistics reduced. With this partnership, both companies will jointly ensure the highest standards in nacelle MRO for the growing fleet of Airbus A320neo," states Safran.
There are currently over 2,500 nacelles produced by Safran on A320neo aircraft in service globally.