Safran is hopeful that deliveries of CFM International Leap engines can return to 2019 levels by 2024, although it stresses that this hinges on the ramp-up of the Boeing 737 Max.
The French aerospace giant is a joint-venture partner in CFM alongside GE Aviation, and the Leap-1A is an option on the Airbus A320neo and the -1B the exclusive engine on the Max.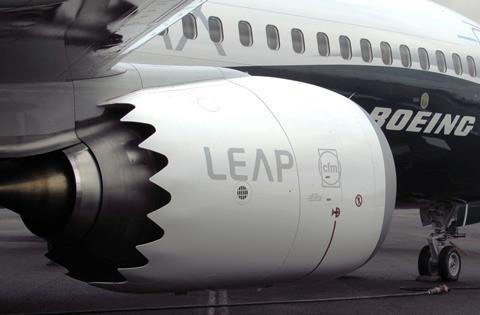 However, deliveries of both variants have been hammered over the past 12 months thanks to the coronavirus-driven commercial aviation downturn, a slump which came on top of the 737 Max's grounding and production pause.
Last year CFM delivered 1,736 Leap engines, but Safran expects shipments will be a little over 800 in 2020 "and next year will be broadly in the same vein", said chief executive Philippe Petitcolin, speaking on a third-quarter results call today.
Chief financial officer Bernard Delpit says that it hopes Leap delivery volumes will rebound to 2019 levels by 2024 but concedes that "this depends on the ramp-up of the Max".
Any output increases on the Boeing narrowbody are likely to be gradual, says Petitcolin: "Max [ramp-up] in 2021 will be slow, that's the way I see it."
While re-certification of the jet by the US Federal Aviation Administration is likely in "the coming weeks", says Petitcolin, Boeing still has a backlog of over 450 Max aircraft which have already been built to deal with first.
"They will have to take that into consideration before thinking about increasing the production rate," he says. Boeing's target is to build around 31 aircraft per month by the start of 2022.
Meanwhile, Safran is continuing negotiations with Airbus over potentially raising monthly A320neo output to 47 aircraft, from 40 currently, at some point next year.
Those discussions have been "extremely good", says Petitcolin. "I believe we should be in line with the requirements of our customers in the coming days or weeks."
But he stresses that the "requirements must materialise" and cautions against a scenario where the supply chain is forced to increase production, only to see output slashed again several months later.
"We want to be sure that it is not only a wishlist but where there are some commitments," he says.
"At the moment we release the supply chain we have to be certain that it's for good."
Safran continues to monitor its 620-strong supply chain for weakness. It has so far identified 100 companies which are "critical", says Petitcolin: "We are really behind them, helping them as much as we can."