"Seaglider" developer Regent Craft has added former Boeing chief executive Dennis Muilenburg and serial aviation entrepreneur David Neeleman to its board of advisors.
The Rhode Island-based start-up said on 12 April that the two "aerospace titans" bring "a broad set of aerospace technology and business development expertise" to the company as it enters its next phase.
"Dennis and David bring decades of combined experience in technology development, global manufacturing and distribution, and commercial operations that will be invaluable as Regent looks ahead to delivering our first Viceroy seagliders by mid-decade," says Regent chief executive Billy Thalheimer.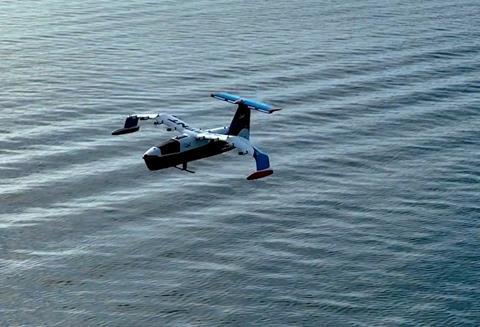 "They have managed through all the hard parts of developing, deploying and operating cutting-edge technology around the planet before," he adds.
"I've spent my career enabling new, easier, more-accessible ways for people to travel, and Regent seagliders fill an urgent need for fast and sustainable coastal transportation," says Neeleman.
Neeleman is chief executive of Breeze Airways, which began operations in 2021. In the past decades he launched four other airlines, including Brazil's Azul and JetBlue Airways. He was also a co-founder of Canada's WestJet.
Muilenburg, who resigned as Boeing's chief executive in 2019 in the wake of two fatal crashes and subsequent extended grounding of the company's 737 Max, adds, "Scaling global distribution and support of aerospace technologies is not easy, but… Regent has already begun establishing the manufacturing capabilities and supply chain partnerships that will give them the robust ability to scale global production and deliver on their backlog, safely and effectively."
Lockheed Martin-backed start-up Regent is developing a wing-in-ground-effect craft it calls a "seaglider". Such designs fly close enough to the surface of the sea to benefit from ground effect – an efficiency improving phenomenon that occurs when a cushion of air forms between a craft's wings and the surface of the sea.
Regent says its seagliders will be able to cruise at 156kt (290km/h) and have 156nm (290km) of range.
In 2022, Regent achieved ground-effect flight with a sub-scale demonstrator of its smaller "Viceroy" craft off the coast of Narragansett, Rhode Island. In that test, the prototype transitioned from floating to flight.
Regent is also developing a second and larger concept called "Monarch" that is intended to carry 100 people and could enter service by 2028.
The company says it had amassed more than 400 "provisional and firm orders" for its future zero-emissions craft, worth $8 billion. Of those, "a two-digit number" – around a year's output – are firm orders, Regent had said in January. It has already announced partnerships with Hawaii's Mokulele Airlines, Southern Airways Express and regional airline Mesa Air Group, which last year committed to purchase 200 aircraft.
Japan Airlines Innovation Fund, the venture arm of the Japanese carrier, has also invested in the company.
The company's next milestone will be a piloted flight of a full-scale prototype, expected by the end of 2024.