Against a sea of Singapore Airlines aircraft parked near Singapore Changi airport's Terminal 2, the distinct red-and-white livery of Honeywell's Boeing 757-200 demonstrator stands out.
Striking colours aside, the aircraft catches one's attention for probably being the only 757 on the apron at Singapore's Changi Airport, as well as for its the distinct protruding pylon mounted on one side of the aircraft.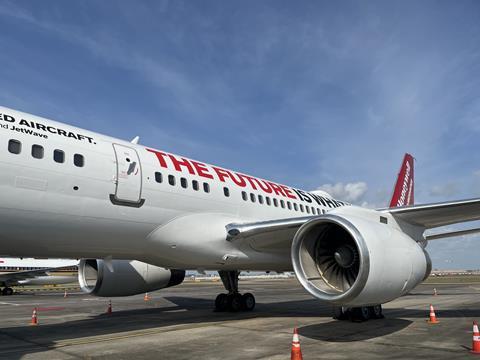 But, as Honeywell executives would have you know, it is what's inside the aircraft that is the true eye-opener.
The 40-year-old 757, registered N757HW, was in Singapore as part of five-stop tour of the Asia-Pacific region, which culminates in its attendance of the Avalon Airshow in Australia.
Its arrival in Singapore comes five years after its previous appearance. But unlike its previous outing where it mainly tested weather radar systems, this time, Honeywell is showcasing a series of satellite communications products aimed at the defence and governmental markets.
It began its tour in Japan, heading to South Korea, then to the Philippines, then to Singapore and finally wrapping up in Australia, where it will appear in the static park.
FlightGlobal was aboard a demonstration flight from Singapore on 24 February, the last of three flights from the city state. During the 1h sortie over the South China Sea, Honeywell highlighted software, including its JetWave MCX product, a Ka-Band satellite communication that is optimised for military missions.
Paul Page is a technical sales director at Honeywell and he tells FlightGlobal the key purpose of the latest tour in Asia is to "raise awareness about the need for a resilient Beyond Visual Line of Sight (BVLOS) communications" in defence missions.
"So [it's about] providing connectivity to their platforms - how that can broaden the mission scope so they can do more," he adds.
Reception to the BVLOS communications product showcase has been largely positive, notes Paul.
Or as he puts: "People come to us and say, 'This is much better than the Powerpoint [presentation]'."
"In a [presentation] you know, you can read everything, but then seeing is believing - coming on board the aircraft, experiencing the technology…it actually opens people's minds up," says Page.
ABOUT THE AIRCRAFT
The demonstrator 757 is the fifth example to be produced and had formerly operated with Eastern Airlines. Honeywell acquired it in 2005 and its transformation into demonstration aircraft was complete in 2008. The aircraft has tested a range of Honeywell aerospace products, including flight management systems, weather radars, as well as business jet engine systems.