Japanese conglomerate Shinmaywa is seeing higher production volumes for shipsets related to the Boeing 787 and Boeing 777X aircraft, in addition to more local defence work.
In the first quarter of Shinmaywa's 2023 financial year to 30 June, revenue at the company's aircraft division rose 24.1% to Y6.7 billion ($62.8 million), according to the company's financial results.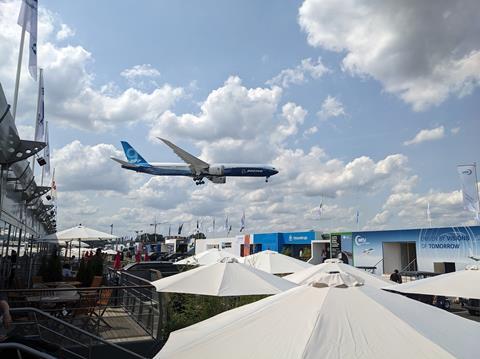 Orders at the aircraft division, however, fell 16% to Y3.7 billion. The company, which earned a small operating profit, adds that a depreciating Japanese yen helped sales figures.
First quarter production volumes for the 777X programme rose to nine units from five a year earlier, while production volumes for the 787 rose to seven units from six. Shinmaywa produces the wing-to-body fairing for the 777X, and (with assistance from Mitsubishi Heavy Industries) the main wing spar for the 787.
The company also noted a dip in work on the Bombardier Global G7500 business jet for the quarter, producing nine units compared with eight a year earlier. The company produces flaps, spoilers, slats and other components for the G7500.
Without providing details, Shinmaywa notes increased demand from the Japan Ministry of Defence for its US-2 amphibious aircraft.
For the full year, Shinmaywa projects aircraft revenue of Y31.3 billion, up from Y23.1 billion in the previous financial year.
In the first quarter, the aircraft division accounted for 12.8% of Shinmaywa's overall revenue of Y52.3 billion. The company also produces trucks, parking systems (including aerobridges), and industrial machinery.