SIA Engineering (SIAEC) reported its first quarterly operating profit in more than three years since the coronavirus pandemic began, amid an uptick in MRO demand and despite rising manpower and material costs.
For the three months to 30 June, the MRO unit of Singapore Airlines posted an operating profit of S$400,000 ($301,000), reversing the S$4.4 million loss in the year-ago period.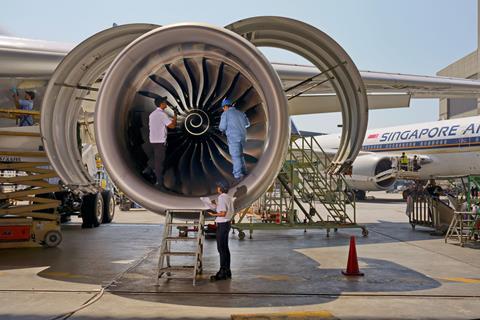 Revenue for the quarter stood at almost S$262 million, a 53% jump year on year. SIAEC says the number of flights handled by its line maintenance business rose 69% year on year, recovering to around 84% of pre-Covid-19 volumes.
"In addition, more hangar checks were completed, while our component and engine shops continued to see a sustained increase in work demand, consistent with increased flight activities," states SIAEC, adding that its inventory technical management programme also saw a rise in work volume.
The revenue increase outpaced a 49% rise in operating costs, to around S$261 million. SIAEC says the increase was partly caused a rise in manpower costs without governmental wage support.
"While demand has been increasing, supply chain issues still persist in some parts of the business, the operational impact of which remains manageable," the company adds.
SIAEC posted a quarterly net profit of S$27 million, more than double year on year.
The MRO provider notes that while demand continues to hold up, demand for MRO work will moderate "as airlines manage various constraints to return fully to pre-pandemic flight levels".
SIAEC flags several challenges – including macroeconomic uncertainties and supply chain disruptions — to recovery.
"We therefore continue to be vigilant in managing cost, as well as to drive improvements in productivity and efficiency," the company states.