SIA Engineering swung to a small half-year profit on the back of stronger MRO demand, but the company warns of impending headwinds, including supply chain disruptions and increased competition.
For the six months to 30 September, the MRO unit of Singapore Airlines posted an operating profit of S$100,000 ($73,390), compared with a S$10.8 million loss in the year-ago period.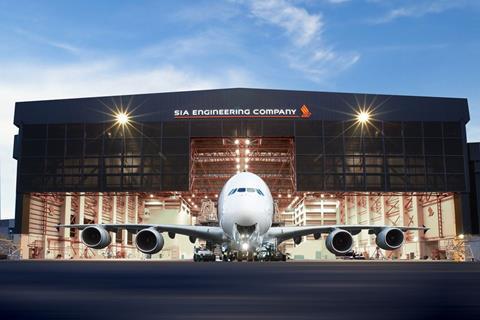 SIAEC saw revenues increase 42% year on year to S$514 million, driven by a spike in line maintenance activity with a return of flights. Costs for the half-year rose about 38% to almost S$514 million, with manpower and equipment costs rising at a higher rate.
In the second quarter, SIAEC swung back to a S$300,000 operating loss from the previous three-month period, amid a slight dip in revenue. On a year-on-year basis, however, the MRO provider narrowed its operating loss.
SIAEC's line maintenance unit in Singapore handled more than 70,700 flights during the half-year period, or about 87% pre-pandemic levels. It is an improvement from the 55% it handled in the year-ago period.
SIAEC also reported increases in base maintenance activity, as well as in its engine and component shops.
The company adds: "Driven by pent-up demand for air travel since the removal of travel restrictions in most countries, we have seen a robust recovery of flight activities which has, in turn, fuelled stronger demand for MRO work."
SIAEC points out that the industry "still faces headwinds", including macroeconomic and geopolitical uncertainties, inflationary pressures, supply chain disruptions and a tight labour market.
It also flagged "resource constraints" in the sector, with airlines facing delivery delays and crew shortages.
"These could weigh on business demand and operating margin recovery in the near-term," SIAEC adds.