SIA Engineering (SIAEC) has warned that the pace of recovery in 2023 "is expected to be slower" than the past year, noting that wider economic challenges will have "downstream impact" on MRO providers.
This is despite also noting that "the worst of the Covid-19 crisis is clearly behind us", with all key markets already reopened and travel demand picking up strongly.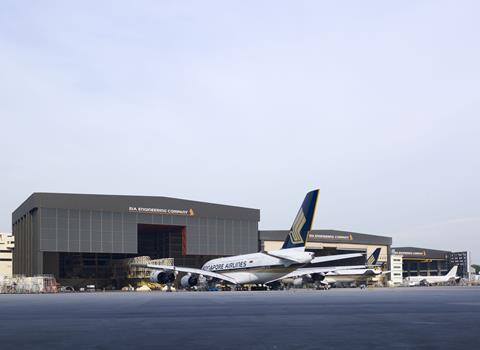 "[The] interplay of geopolitical tensions, a looming economic slowdown in many major economies, supply chain disruptions and persistent high inflation could pose risks to the continued recovery, with downstream impact on demand for maintenance, repairs and overhaul," SIAEC states.
However, it downplays any significant impact from ongoing supply chain issue, noting that while some of its joint ventures "are experiencing supply chain issues due to component parts shortages", the disruption has so far been "manageable".
"We will continue to monitor and work with our OEM partners to mitigate the impact of any disruption," states SIAEC.
The outlook comes as the MRO unit of Singapore Airlines widened its full-year losses, despite seeing a 41% rise in revenue.
For the year to 31 March, the company posted an operating loss of S$26.3 million ($19.8 million), widening the S$21.8 million loss in the previous financial year. SIAEC cites a rise in costs - especially manpower costs as governmental wage support eases - for the steeper loss, but notes "losses were progressively lower quarter-on-quarter".
Revenue for the year was S$796 million, with MRO activity picking up as flights resumed, while costs was up nearly 40% to S$822 million.
SIAEC notes that the year to 31 March "saw the strongest recovery" in flight activity since the pandemic began. Its line maintenance unit in Singapore handled 79% of pre-pandemic volume in March, with overseas units seeing recovery levels.
SIAEC's base maintenance business handled roughly the same number of checks compared to the year-ago period. The company was also able to "take advantage of the increase in demand with new customer contracts secured during the year; more content-heavy aircraft checks were also performed during the year".