SIA Engineering bounced back to a full-year net profit, as the travel recovery continues, though it was still loss-making at the operational level.
For the year to 31 March, the MRO unit of Singapore Airlines reported a net profit of S$67.6 million ($49 million), reversing the net loss of S$11.2 million in 2020, where it took on a hefty impairment charge on its base maintenance unit's assets.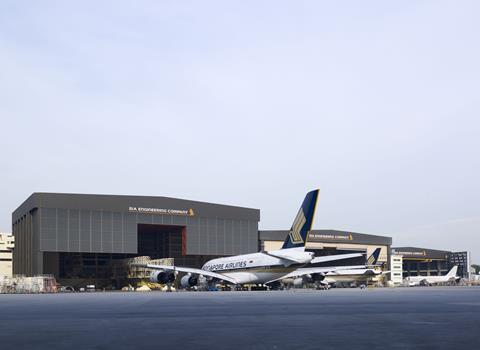 At the operating level, SIAEC narrowed its full-year losses to S$21.8 million, compared with S$25 million in the previous financial year.
This was led by a 28% jump in revenues to S$566 million, outpacing a 26% rise in costs to S$588 million.
SIAEC attributes the revenue improvement to an increase in flights handled, as borders reopen and flight activity recovers. The rise in expenses was due to reduced wage support, as well as increased payroll costs.
The company also points out that without government support, its full-year operating loss would be steeper, at S$25.9 million.
SIAEC's line maintenance unit handled its highest number of flights in Singapore since the start of the pandemic two years ago, at 38% of its pre-pandemic workload. Its overseas line maintenance stations also reported similar recovery trends.
Base maintenance activity, as well as engine and component MRO, saw an uptick in the financial year, led by an increase in demand.
However, SIAEC says its fleet management business has seen muted growth in work volume. This was due to fewer flight hours, as well as the retirement of older aircraft.
The MRO provider says the move to fully reopen borders – in Singapore, as well as in many parts of the world – will "augur well for a stronger recovery" in the coming financial year, which ended 31 March 2023.
"While we are confident of recovery, we are mindful of significant risks that remain due to geopolitical tensions, continuing threats of Covid-19 outbreak in some countries and emergence of new variants," it adds.
SIAEC also flagged the risk of revenue recovery being outpaced by rising costs and declining government wage support.
"We will continue to pursue growth, with efforts focused on expanding our capabilities, services and geographical presence through acquisitions and partnerships," it adds.